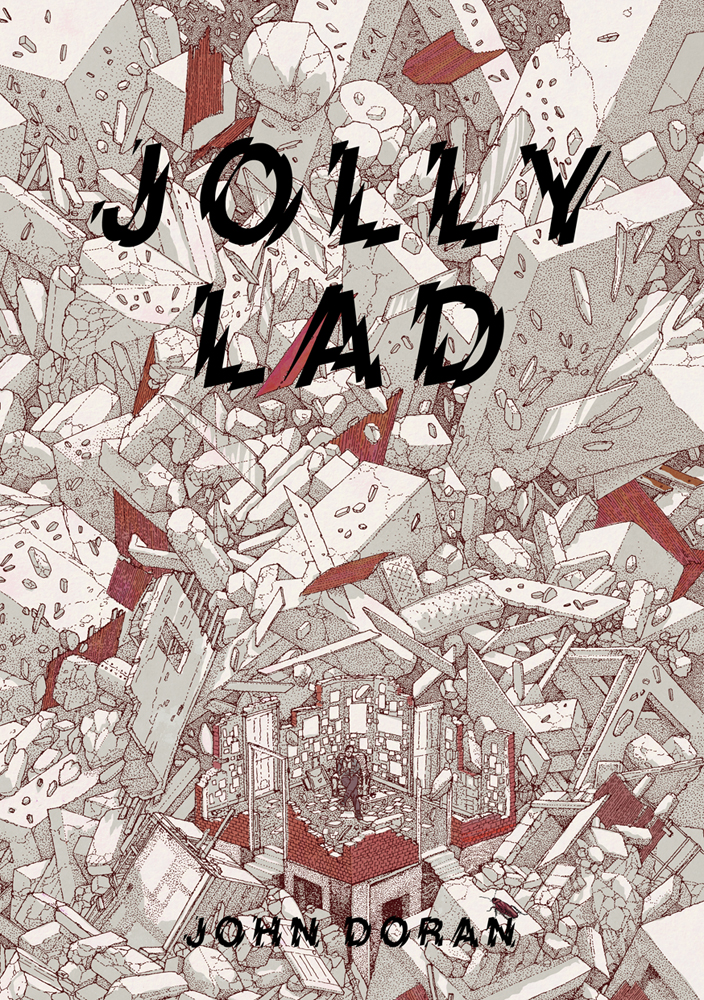 John Doran writes about his forthcoming  reading tour An English Trip
"For the entire month of May I'm undertaking a 31 date reading tour of England called An English Trip. I'm going with my good pal Kjetil Nernes – the brains & brawn behind Årabrot – who is creating music for me to read over while we do shows in high security prisons, schools, libraries, record shops, bars, churches, village halls, book stores, cinemas, theatres and gig venues.
This ill advised, poorly thought out, risible adventure is, as you have almost certainly realised in quicker time than I did, part of a burgeoning mid-life crisis (triggered by a common or garden case of bi-polar disorder).
However, despite how anxious I've become about it now that I'm less mad and I've had some time to think it over, I've got to say, it's been quite exciting to plan. I bought a large fold-out road map of the UK from a petrol station to lay out on my living room floor. And as I started placing small star stickers (stolen from one of my son's Thomas The Tank Engine magazines) over various towns and cities, I tried to pin down where this idea had originated as I marked Salford, Eastbourne, Plymouth, Manchester, Bristol, Stockton-on-Tees, Durham, Sunderland, Sheffield, Taunton, Liverpool, Rochester, Cambridge, Leeds, Bradford, Birmingham, Totnes, Nottingham, Northampton, Worcester, Brighton and other destinations.
Each of the small, colourful circles of paper had been placed over the site of a gig location. Every marker stood for an opportunity I was taking to collaborate with various artists, poets, musicians, writers and filmmakers along the route."
More, including an extract from Jolly Lad, can be found here 
DATES FOR MAY
Fri 1: The Coach House, BRIGHTON – featuring Verity Spott and Kemper Norton £4 on the door.
Sat 2: Star & Garter, MANCHESTER – featuring Ten Mouth Electron & ILL. £5 door/adv. TICKETS AVAILABLE HERE.
Sun 3: Gecko Cafe, HASTINGS – with Sexton Ming, Natasha Soobramanien and Luke Williams. TICKETS AVAILABLE HERE £3.
Mon 4: The Vinyl Frontier, EASTBOURNE FREE ENTRY
Tue 5: The Book Hive, NORWICH FREE ENTRY
Wed 6: Pop Recs Ltd. SUNDERLAND – with King Ink FREE ENTRY
Thu 7: Sound It Out Records, STOCKTON ON TEES – with Rick Holland FREE ENTRY
Fri 8: Picture House Social, SHEFFIELD – with Adrian Flanagan & Dean Honer of Eccentronic Research Council & Keely Forsyth
Tickets available here
£5 adv/door.
Sat 9: MK Art Gallery, MILTON KEYNES – with Chrononautz, Klaar and Cantaloupe. Tickets available here. £5 adv/door.
Sun 10: Callow End Village Hall, CALLOW END – with Josephine Dickinson and Sarah Angliss Tickets available here. £6 adv/door.
Mon 11: NN Cafe, NORTHAMPTON – with Roger Robinson, Falling From Cloud 9 & Alistair Fruish. £3 on the door.
Tue 12: Broadway Cinema, NOTTINGHAM – with Nik Void & The Quietus At Leisure Films. £5 adv/door.
Wed 13: Drift Records, TOTNES – with The Undertakers ENTRY BY DONATION
Thu 14: The Lexington, LONDON – with Krautrock Karaoke and Roger Robinson Tickets available here
Fri 15: The Adelphi, HULL – with Andy Kirkpatrick & The Patron Saints
Sat 16: Black Cat Records, TAUNTON – with Henry Blacker – FREE ENTRY
Sun 17 DAYTIME: Rise Records, BRISTOL FREE ENTRY
Sun 17 EVENING: The Cube, BRISTOL – with ANTA & Bronze Teeth Tickets available here. £7 adv/£9 door
Mon 18: The Kazimier, LIVERPOOL – with Krautrock Karaoke & Barberos Tickets available here
Tue 19: The Billabong, ROCHESTER – with Punching Swans Tickets available here. £4 adv/door.
Wed 20: The Exchange, LEICESTER – with Lone Taxidermist. £5 adv/door.
Thu 21: B Arts, STOKE – full bill TBA NEPAL FUND RAISER
Fri 22: Eastside Gallery, BIRMINGHAM – with Chrononautz & Roger Robinson Tickets available here. £4 adv/door.
Sat 23: The Old Police House, GATESHEAD – featuring Chrononautz
Sun May 24: Threadfest, BRADFORD – with Chrononautz, Richard Dawson & more… Tickets available here
Mon 25: Outlaws Yacht Club, LEEDS – with Chrononautz & Rick HollandFREE ENTRY BY TICKET
Wed 27: Memorial Unitarian Church, CAMBRIDGE – with English Heretic and the Cambridge Counter-Culture Research Group Tickets available here. £3 adv/door
Thu May 28: CSV MEDIA CLUBHOUSE, IPSWICH IP1 2DX, IPSWICH 7pm, £3 Details
Fri 29: Underground, PLYMOUTH – with Sly And The Family Drone, Knifed Out Of Existence, Steve Strong & Richard Thomas. Full line up TBA
Sat 30: South Records, SOUTHEND – with Martin Newell FREE ENTRY
Sun 31: Islington Mill, SALFORD – with GNOD & Krautrock Karaoke Tickets available here. £5 adv/door.