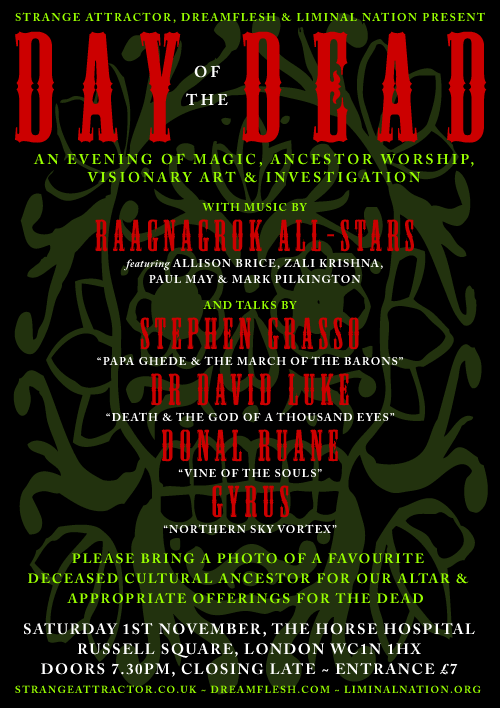 A collaborative seasonal event from Strange Attractor, Dreamflesh and Liminal Nation at the wonderful Horse Hospital. Come celebrate with us for a night of focussed high strangeness with talks, music and remembrance.
Three initial presentations will consider the ayahuasca art of Pablo Amaringo (Donal Ruane), encounters with death on DMT (David Luke) and a visionary exploration of Northern England's rock art (Gyrus), followed by a Q & A. South London sorcerer Stephen Grasso will then guide us over the crossroads and through the veil of night, carried by the transcendental sounds of the Raagnagrok All-Stars (every man and every woman is an all-star) featuring Allison Brice (electric dulcimer), Zali Krishna (guitar/effects), Paul May (drums) and Mark Pilkington (synth and electronics). 
A key focus for the night will be an altar of our lost cultural icons and inspirations – please bring images and offerings of the lost people, animals and places who have guided and informed you through your life thus far.  
There will be talks, discussion, performance, music, magic, stalls and fun late into the night. We expect the event to be quite busy, so reserving a place in advance is advised – you can do this via the DOTD web site.