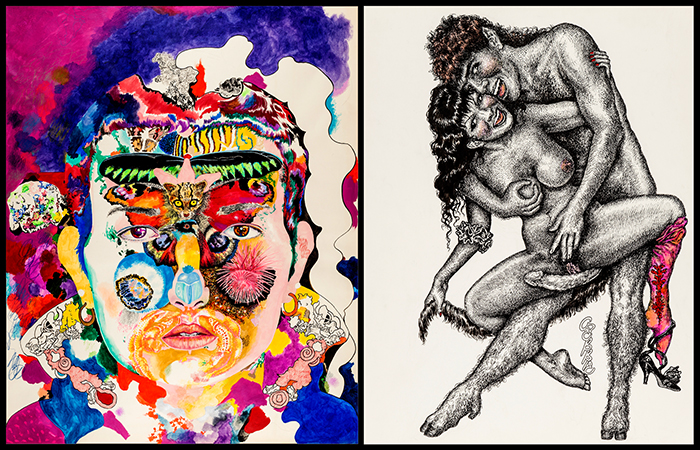 MELINDA GEBBIE: WHAT IS THE FEMALE GAZE?
THE CALIFORNIAN UNDERGROUND COMIX LUMINARY AND PSYCHEDELIC VISIONARY PRESENTS HER UNDERGROUND HEAVEN, AND UNDERGROUND HELL.
11 APR – 9 MAY 2015:
HORSE HOSPITAL,  Colonnade, Bloomsbury, London WC1N 1JD

PRIVATE VIEW (all welcome): 
FRIDAY 10TH APR 7PM
EXHIBITION:
SAT 11TH APR – SAT 9TH MAY, MON – SAT, 12 – 6PM
FRIDAY 17TH APR:
MELINDA GEBBIE IN CONVERSATION WITH MARK PILKINGTON AND TAI SHANI
An invasive exotic species in her own right, Melinda Gebbie was recently approached by a neighbourhood artist seeking fifty women contributors to a project based around her own fiftieth birthday. The Californian Underground Comix luminary and psychedelic visionary ventured enthusiastically that such a project could be an interesting way of promoting the female gaze. To which the artist replied, "Well, I try to include them whenever I can", an earnest liberal response. True story.
In her first, crucial exhibition at Bloomsbury's Horse Hospital the former Haight-Ashbury runaway, West Coast punk affiliate and anti-nuclear animator reveals forty years of incendiary culture viewed through a unique and finely-ground female lens. The riotous pink frontline of a generation's sexual expression and sexual politics is charted here in eighty drawings and seven revelatory paintings, ranging from ferocious engagements with her predominantly male Underground contemporaries, through the account of her very English obscenity trial and book-burning in 'Public Enemy', to a three-dimensional extension of her legendary pornographic masterpiece Lost Girls, with writer Alan Moore, in the form of three exquisite bronze casts of the iconic protagonists.
In crackling documentary black and white, in a neurological rapture of colour, here is the female gaze in all its awesome and gorgeous lucidity. Here, at last, is Underground Heaven.