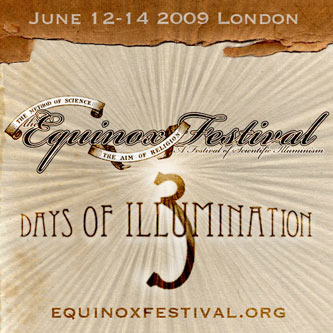 Strange Attractor is excited to be involved with the first Equinox Festival, to be held in London's Conway Hall (site of our own Megalithomania event in 2002) on June 12-14 2009.
Equinox is currently hosting 13 bands, 12 speakers and 10 films, all drawn together by their diverse but dedicated explorations of esoteric themes, traditions and ideas.
There's too much good material to list it all here, but highlights include:
* The first UK performance in 35 years of acid-folk legends Comus. The original band will perform their bizarre and beguiling album First Utterance in full, in what is sure to become a sell-out concert.
Other musics include performances from SA faves Aethenor and Arktau Eos, John Zorn, Ze'v, The Anti Group and Yan-gant-y-tan (featuring Andy Sharp of English Heretic, Leila Badriya, Frances Morgan and Mark Pilkington).
* Amongst the speakers are Erik Davis, Edwin Pouncey, Ralph Metzner, Philip Farber and David Beth.
* Films to be screened include work about Maya Deren, Alan Moore and Harry Smith and by Alejandro Jodorowsky and Craig Baldwin.
Strange Attractor has been acting as a consultant on the festival, and will publish an accompanying book of essays and artwork that doubles as a festival programme. More details on this are to follow, but a special edition will be made available.
Tickets for what is sure to be an exhausting and enlightening 48+ hours are a mere £80 and are available here
Full festival details here
We'll have further updates on the Equinox as they come in. Watch this space and see you there!