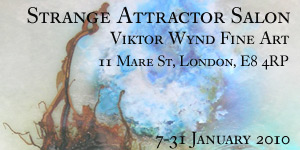 The first Strange Attractor Salon will be held at Viktor Wynd Fine Art (incorporating The Little Shoppe of Horrors), 11 Mare Street, London, UK, E8 4RP, between 7 and 31 January 2010.
See some photos from the exhibition here
The exhibition will gather together, for the first time, a selection of art and illustration from Strange Attractor's contributors, friends, allies and inspirations.
Like our books and events the Salon will incorporate a wide range of media (painting, drawing, photography, sculpture, sound and video) from both trained and untrained artists. The assembled exhibitors all share Strange Attractor's fascinations with inner space, craft, science (natural and unnatural) and the fantastic.
Confirmed contributing artists are:
Phil Baker * Joel Biroco * Richard Brown * Ossian Brown * John Coulthart * Rod Dickinson * Disinformation * English Heretic * Tessa Farmer * Blue Firth * Alison Gill * Doug Harvey * Josephine Harvatt * Ken Hollings * Stewart Home * Julian House * Ali Hutchinson * Alyssa Joye * Maud Larsson * Gary Lachman * Xtina Lamb * John Lundberg * Man From Uranus * Eleanor Morgan * Frances Morgan * Drew Mulholland * Bridget Nicholls * Oscillatorial Binnage * Katie Owens * Edwin Pouncey * Arik Roper * Gavin Semple * Martin Sexton * USURP * Robert Wallis * Catharyne Ward  * Eric Wright *
[The image above is a detail from The Electrochemical Glass (1997-2009) by Richard Brown, a living artwork featured on the cover of SAJ3, that will be on display during the Salon.]
+++++++++++++++++++++++++++++
A series of discussions, screenings and performances are also scheduled as part of the residency:
**14th January – Salon Discussion**
Mind, Art and Magic: Visions of Inhabited Worlds
with Phil Baker, Blue Firth, Gavin Semple, Robert Wallis
Phil Baker is the author of The Devil is a Gentleman: The Life and Times of Dennis Wheatley , William S Burroughs and the forthcoming Austin Osman Spare: The Life and Legend of London's Lost Artist .
Artist Blue Firth has a long-standing interest in the nature of local communities and how their histories are recorded through vernacular crafts and practices. Through research of local history and customs, she seeks out arcane and often neglected information with which she aims to rediscover the forgotten character of a place. She is currently studying at the Royal Academy.
Gavin Semple is a writer, artist and musician with a deep understanding of magical practice. He is the author of Zos Kia: An Introductory Essay on the Art and Sorcery of Austin Osman Spare (Fulgur 1995) and other texts on Spare, and is a co-founder of magical publishing house Fulgur.
Robert Wallis is Associate Professor of Visual Culture at Richmond University in London and a Research Fellow in Archaeology of Southampton University. He is the author of a number books on shamanism, 'sacred sites' and heathen magic, including Shamans/neo-Shamans: Ecstasy, Alternative Archaeologies and Contemporary Pagans, Galdrbok: Practical Heathen Runecraft, Shamanism and Magic (with Nathan Johnson) and Sacred Sites, Contested Rites/Rights: Pagan Engagements with Archaeological Monuments (with Jenny Blain).
++++++++++++++++++++++++++++++++++++++++++++++++
**15th January: Luminous Pleasures**
Short films from contributing artists including:
Richard Brown, Disinformation, Tessa Farmer and Sean Daniels, Blue Firth, Stewart Home, Julian House, John Lundberg, Eleanor Morgan, Drew Mulholland, Cathy Ward  & Eric Wright.
++++++++++++++++++++++++++++++++++++++++++++++++
**20th January – Salon Discussion**
Man, Myth and Music: Occult Traditions in Popular Music from Mozart to Mayhem
with Gary Lachman, Frances Morgan,  Edwin Pouncey
Gary Lachman is the author of several books of esoteric cultural history including Turn Off Your Mind: The Mystic Sixties and the Dark Side of the Age of Aquarius; A Secret History of Consciousness; The Dedalus Book of the Occult: A Dark Muse and The Dedalus Occult Reader: The Garden of Hermetic Dreams. As a musician Gary was a founder member of Blondie and played guitar with Iggy Pop, a period described in his book New York Rocker. Gary was inducted into the Rock and Roll Hall of Fame in 2006.
Frances Morgan is the former editor and publisher of independent music magazine Plan B and has written for publications including The New Statemsan, Frieze, Loops and The Quietus. As a musician she performs in underground experimental groups including Morgen und Nite, Macroprosopus Dancehall Band and Time.
Edwin Pouncey is an artist, writer and musician. As Savage Pencil, Edwin's unmistakable illustrations have been a mainstay of the underground UK music scene for over three decades, adorning album sleeves for bands including The Fall, Sonic Youth and Sunn O))) while his writing has appeared in music magazines from Sounds to The Wire. Edwin has lectured on the role of magick in black metal and also performs in the improvising noise band Pestrepeller and duo, with Sharon Gal, Meltaot.
++++++++++++++++++++++++++++++++++++++++++++++++
**22nd January: Astounding Stories**
Live performances from English Heretic and Welcome to Mars
English Heretic creates verdant, darkly humorous soundscapes for the darkest recesses of the English imagination. The magical texts of Kenneth Grant and the occult fictions of Sax Rohmer form an uneasy alliance, accompanied by a musical backdrop that glides effortlessly from Motown to 70s progressive horror rock.
Ken Hollings reads from his book Welcome to Mars: Fantasies of Science in the American Century with a live, improvised soundtrack of 1950s electronica for analogue synthesisers, reel-to-reel tapes and theremin from Simon James and Bruce Woolley.
++++++++++++++++++++++++++++++++++++++++++++++++
**28th January – Salon Discussion**
Natural Allies: Art and Other Lifeforms
with Tessa Farmer, Alison Gill, Eleanor Morgan, Bridget Nicholls
Tessa Farmer's fantastical, often disturbing sculptures, films, installations and drawings depict an inhabited world that exists just out of sight of our own. Her work has been exhibited worldwide, including at the Saatchi Gallery, the Ashmolean Museum and The Natural History Museum.
Alison Gill studied sculpture at the Royal College of Art, London. She has shown widely in solo and group exhibitions in the UK and internationally including: Brink, Sabine Wachters Fine Arts, Brussels; Alison Gill, Taro Nasu Gallery, Tokyo, Japan; In the Society of London Ladies, Dispari & Dispari Project, Reggio Emilia, Italy; Dream Machines, [Hayward Gallery National Touring Exhibition curated by Susan Hiller].
Eleanor Morgan has exhibited in Europe and North America. Using video, sculpture, performance and drawing she explores the relationship between nature and culture and attempts to create art that hovers between the two. This has included sculpting with spider's silk, encouraging ants to draw self-portraits and a close encounter with a giant green sea anemone.
Bridget Nicholls is a writer, naturalist and broadcaster whose work has featured on BBC radio, Discovery Channel and The Ecologist. She is a founder and director of Pestival, an international arts festival dedicated to 'Insects in the arts and the art of being an insect'.
++++++++++++++++++++++++++++++++++++++++++++++++
**29th January: Voltage Control**
Sounds from Man From Uranus, Disinformation vs USURP, Oscillatorial Binnage
Three unique, very different explorations of electronic sound and music:
Electroacoustic neo-primitivists Oscillatorial Binnage tease and torment home-made and circuit-bent electronic devices.
Disinformation vs USURP mutate and subvert natural and man-made acoustic phenomena from microwave recordings of tube trains to ancient Indian observatories.
Man From Uranus brings his warped, electronic jazz rock from Outer Space to you.
**********
To book tickets for any of these events visit The Last Tuesday Society web site: http://www.thelasttuesdaysociety.org/