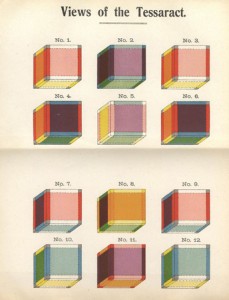 From Animism to Zos:
Strange Attractor Salon at the ICA
10 March – 12 May 2011
Institute of Contemporary Arts
The Mall,  London, SW1Y 5AH
As part of the Nathaniel Mellors: Ourhouse exhibition at London's ICA, Nathaniel Mellors and Strange Attractor Journal editor Mark Pilkington have assembled a series of weekly events, consisting of a talk and a film, exploring some lesser-known intersections of culture, history, mind and nature.
From the twenty-first century resurgence of animist beliefs to the art and life of Austin Osman Spare, via London's lost rivers, the history of spider-silk weaving, nineteenth-century visions of a multi-dimensional universe and magical influences in twentieth century music, a wealth of recherché ideas, knowledge, and experiences await you in the Strange Attractor Salon.
Talks run from 7pm until 8pm.
Each event will be followed at 8.30pm by a film selected by Nathaniel Mellors.
Tickets are £5 for the talks or £8 with a film screening.
Advance booking for the salon events is advised, via the ICA site.
10 March – Stephen Grasso: Haunted Soundsystems
Writer and witchdoctor Stephen Grasso digs through the crates to present an overview of the influence of African Diaspora magico-religious traditions on music, from New Orleans jazz to JA dancehall.
Book via the ICA site.
17 March – Robert Wallis: Exorcising 'Spirits' – Animism, shamanism and Rock Art
Dr Robert J. Wallis, Professor of Visual Culture at Richmond University, London, talks about new thinking on shamans, animists and prehistoric rock art.
Book via the ICA site.
24 March – Eleanor Morgan: Spinning with spiders
Artist and researcher Eleanor Morgan examines the mythical and material entanglements between humans and spiders, incorporating the history of our use of spiders' silk, the courtship and mating of spiders, and spiders' attraction to human music and song.
Book via the ICA site.
31 March – Phil Baker: The Life and Legend of Austin Osman Spare
Artist, visionary and occultist, Austin Osman Spare's career began in Edwardian celebrity and ended in Fifties obscurity. Spare's biographer Phil Baker considers the success and failure of Spare, with special reference to demonology and interior decoration, and discusses Spare's life, roots and obsessions, setting them against Victorian ideas about the power of the unconscious and the nature of familiar spirits.
Book via the ICA site.
7 April: Mark Blacklock: Charles Hinton, Pioneer of the Fourth Dimension
How Victorian Britain discovered the joys of multi-dimensional reality, and the man who brought it to them. Mark Blacklock is a writer and contributor to SAJ Four.
Book via the ICA site.
14 April : Dr David Luke – Psi, Mind and Time
Remembering the future and other anomalies from the annals of parapsychology: the forbidden science. Dr David Luke is President of the Parapsychological Association and a contributor to SAJ Three and Four.
Book via the ICA site.
21 April : Tom Bolton – London's Lost Rivers
Over 20 rivers once ran through the city – where were they and what happened to them? Tom is the author of the forthcoming Strange Attractor Press book London's Lost Rivers: A Surface Dweller's Guide.
Book via the ICA site.
28 April : Mark Pilkington – From Heretics to Headbangers
From the Hermetic Order of the Golden Dawn to Throbbing Gristle and the triumph of punk: an audio-visual history of British occultism, magic and witchcraft from 1880 to 1980, told through popular music. [Amanda Feilding's talk has been cancelled]
Book via the ICA site.
5 May : Ken Hollings – Living in Space
The Welcome to Mars author on adaptations to life in space, with a live synthesiser soundtrack by The Asterism.
Book via the ICA site.
12 May: Antony Clayton – Legends of Underground London
From swine in the sewers, to cannibals on the tubes via Jack Cade's cavern and the bunkers under the ICA – what lies beneath the city streets? Antony Clayton is the author of Subterranean City and The Folklore of London.
Book via the ICA site.
Weirding Modules
On 15 April Strange Attractor will also host Weirding Modules, a night of musical ensembles exploring inner and outer space, featuring Alexander Tucker Decomposed Orchestra, Amal Gamal Ensemble and Raagnagrok Allstars. More info on this coming soon.