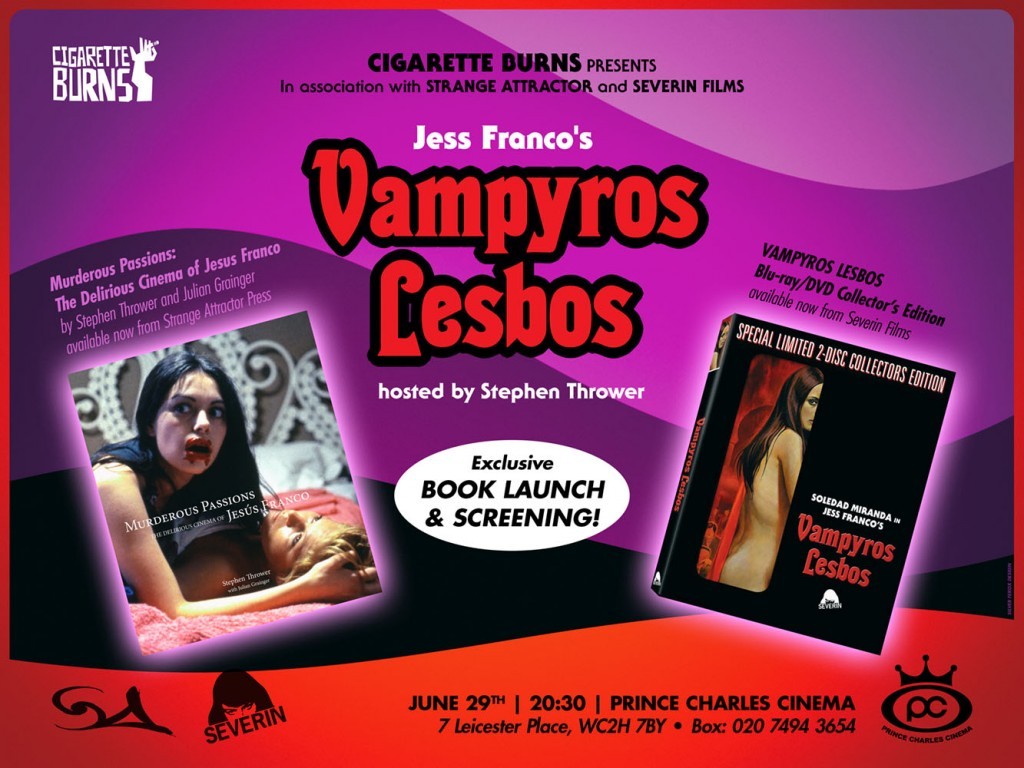 8.30pm, 29 June at The Prince Charles Cinema, London.
Join Cigarette Burns and Strange Attractor as we celebrate the launch of Stephen Thrower's epic Jess Franco tome, Murderous Passions: The Delirious Cinema of Jesus Franco, with a screening of Jess Franco's classic Vampyros Lesbos, introduced by Stephen Thrower.
Director Jesus Franco's surrealistic reworking of Bram Stoker's short story Dracula's Guest has acquired a substantial cult following due to its hallucinatory erotic imagery and a sexy performance by Soledad Miranda as vampiric Princess Nadine Korody. Ewa Stroemberg stars as Linda Westinghouse, an American working in a Turkish legal firm. Lucy is plagued and thrilled by a series of erotic dreams concerning a mysterious vampire woman who seduces her before feeding on her blood. When she travels to an island to settle Princess Korody's inheritance, Lucy recognizes the beautiful woman as the vampire from her dreams. A poetic, arty horror film which begs comparison to the work of French director Jean Rollin and Spaniard Jose Larraz, Vampyros Lesbos is an ode to indulgent, funereal excess and is among the most peculiar, gripping films of Franco's career. Dennis Price and Paul Muller co-star, while Franco appears as a hotel porter
We'll be presenting Severin Film's acclaimed new transfer of Vampyros Lesbos in all it's glory.
Tickets available here