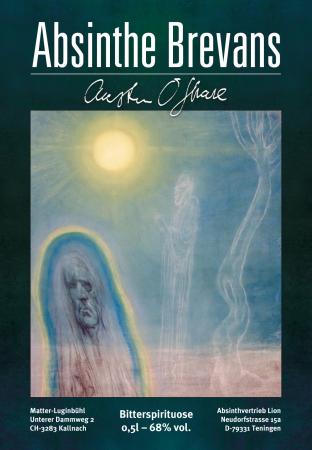 Enterprising absinthiste Oliver Matter has concocted a special brew dedicated to the English artist and occultist Austin Osman Spare. 
'The first batch was distilled on Spare's birthday, 30 December. The formula is taken from J. De Brevans 1897 manual  La fabrication des liqueurs, with slight modifications to achieve a balanced taste. The result is a complex yet smooth, harmonic and mellow Absinthe. 
Oliver Matter uses only organic the highest quality botanicals, locally cultivated wherever possible. Herbs such as small wormwood and hyssop are added for colouring. No sugar or artificial substances are added to the mix. '
The bottle is decorated with a beautiful Spare pastel from 1946, Astral Body and Ghost, from the collection of SA pal Ossian Brown.
You can buy a bottle or two here.
Those curious to know more about the history of Absinthe should pick up a copy of SA pal Phil Baker's Dedalus Book of Asinthe. Meanwhile, watch this space for major Spare-related news in the near future.