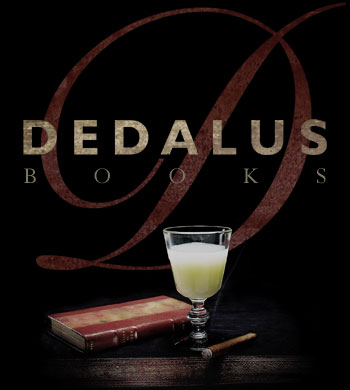 UPDATE 06 March 08
'Dedalus is proud to announce that Informa plc through its subsidiary company Routledge Books, an imprint of Taylor & Francis, will sponsor Dedalus for the next two years as part of Informa plc's corporate responsibility programme.
This sponsorship means that Dedalus will be able to honour the commitments it has undertaken to its authors, translators, cultural institutions and other publishers. We will continue to encourage and support new writing, with special emphasis on the dialogue between cultures brought about by literature in translation
Dedalus's readers can now look forward to translated fiction from Danish, Estonian, Flemish, French, German, Portuguese and Spanish in the next two years as well as more original English language fiction. Dedalus has just bought Made in Yaroslavl, a brilliant first novel by Jeremy Weingard, who lives in the East of England.
"Apart from financial support we hope to benefit from the technical expertise and advice of a large and successful publisher which should be of great benefit to Dedalus. We look forward to working with Routledge Books and making the most of the opportunities this sponsorship programme will provide for Dedalus."
Eric Lane, M.D of Dedalus Publishers
Calling all gnostic dwarves, flesh eaters, absintheurs, occultists, opium eaters and decadents!
Dedalus is one of the finest independent publishing houses in the UK, if not the world, and publishes great books by SA friends and contributors including Phil Baker, Amelia Hodsdon, Robert Irwin, Mike Jay, Gary Lachman and Alex Martin, not to mention classics by Huysmans, Beckford, Bruisov, Meyrinck and many others.
Due to absurd government overspending on the colossal folly of the 2012 Olympics, the Arts Council have been forced to remove their funding from Dedalus. This means that this wonderful institution is in real danger of closing down. The most helpful thing you can do is to buy some books.
There's almost too much good stuff to choose from, but I can unhesitatingly recommend the following (links take you to author pages where you can buy books):
The Dedalus Book of Absinthe by Phil Baker
The Arabian Nightmare / Satan Wants Me by Robert Irwin
Emperors of Dreams: Drugs in the 19th Century by Mike Jay
The Decadent Traveller / Cookbook / Gardener by Lucan and Grey

The Dedalus Book of the Occult / Literary Suicides by Gary Lachman
Memoirs of a Gnostic Dwarf by David Madsen
Or go and browse their web site for yourself: Dedalus

DON'T LET DEDALUS DIE CAMPAIGN
As most of you must know by now Arts Council England East are stopping our funding this month. There are various things you can do to help us.
1.Sign our online petition at http://www.gopetition.co.uk/online/16111.html
For online petition novices like me the security code is the letters next to the box.
2.Please write to The Arts Council on behalf of Dedalus. January 15 is the day when The Arts Council starts its deliberation, which ends on 23/1 so please start emailing soon. Something along the lines of
DON'T LET DEDALUS DIE
The Arts Council priorities for Literature include translation, new writing and international partnerships and supporting publishers and other arts organisations, which deliver these objectives. Dedalus translates fiction from 14 Modern European languages and publishes original English language fiction, which it has sold into 23 different languages, 28 territories. It has won many prizes and accolades.
19 European cultural institutions have formed partnerships with Dedalus to help it put British publishing at the heart of Europe. Why won't The Arts Council join them in funding Dedalus?
England does not possess many independent literary publishers so we can't afford to destroy one that will celebrate 25 years of literary publishing on 30 November 2008.
Send to the following people at The Arts Council and include info@dedalusbooks.com
Hierarchy
Sir Christopher Frayling at The Arts Council via his PA: maria.hampton@artscouncil.org.uk
Peter Hewitt, Chief Executive of The Arts Council: peter.hewitt@artscouncil.org.uk
Andrea Stark, Chief Executive of The Arts Council, East: andrea.stark@artscouncil.org.uk
Literature
Antonia.Byatt@artscouncil.org.uk
John.Hampson@artscouncil.org.uk
Niki.Braithwaite@artscouncil.org.uk
Lucy.Sheerman@artscounci.org.uk
3. Please send to arrive around 15/1 a postcard, a sheet of paper or if you are feeling! extravagant a Dedalus book with the words written on it in big letters Don't Let Dedalus Die, and sign it.
Send to:
Sir Christopher Frayling( Chairman) Andrea Stark( Chief Executive)
The Arts Council England, The Arts Council England, East
14,Great Peter Street, Eden House
London,SW1P 3NQ 48/49, Bateman Street, Cambridge, CB2 1LR
4.Buy our books! We have £24,958 to find to replace The Arts Council money. It would be good if we could turn January and February into bumper months.
Books about death on our list are particularly appropriate. Bruges-la-Morte-Rodenbach ( The Guardian paperback of the week) and Exquisite Corpse-Robert Irwin spring to mind.
New titles in January
The Dedalus Book of Literary Suicides-Lachman
The Dream Maker –Haugaard
New titles in February
Magnus –Sylvie Germain
Pleading Guilty- Paul Genney returns, a good book for lawyers and ACE employees.
5. Bookshops display our books and advertise our petition
6. Reviewers please review our new titles. Make us visible so we won't become invisible and die.
PLEASE SEND THIS EMAIL TO EVERYONE YOU KNOW.