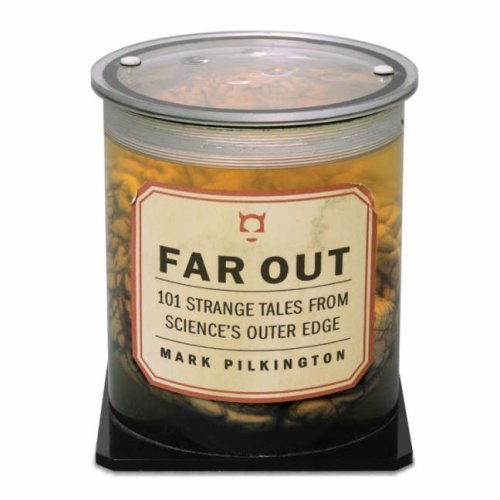 So my first full book hits the shelves this week: FAR OUT: 101 STRANGE TALES FROM SCIENCE'S OUTER EDGE – published by Disinformation and available wherever interesting ideas are sold.
A miscellany of 101 short histories from the annals of weird science, it's culled from the columns I wrote for the Guardian newspaper's now-extinct Life section between about 2003 and 2005.
From the Aquatic Ape Hypothesis to Zero Point Energy via the Hieronymous Device and Erototoxin, I've tried to distill complex, often mind-boggling ideas and stories into concise, hopefully pithy and entertaining tinctures that can safley be taken at up to six times a day. I recommend use in the toilet, at bedtime or on short journeys (though not while cycling or operating heavy machinery).
Disinformation have done a great publishing job. The cover, as you can see above, is fantastic, and the end papers and section divides come in a wild radioactive green – as one friend puts it, the international colour of weird science. The book is a handy CD-size and satisfyingly thick at 236pp, and should fit snugly into the lab coat, or look great in a padded cell.
Hopefully this clutch of stories will inspire, confuse, enthrall, appall and entertain the mad scientist in everybody's lives.
By it from your local independent book shop, or if you must, from Amazon UK (who have the title wrong!) / USA.
You can read the full press release after this break…
FAR OUT: 101 STRANGE TALES FROM SCIENCE'S OUTER EDGE
238 pages £7.99 paperback
Published November 26th 2007
By The DisInformation Company Ltd
Journey to the wilder shores of science with this quirky, compulsive, witty and occasionally thrilling new book from the author, broadcaster and science iconoclast Mark Pilkington.
For author interviews, review copies or further information your media contact is Jeff Scott at PLATYPUS PR ­ phone him on 01273 692215 or email jeff@platypuspr.com – alternatively please email the author Mark Pilkington directly at mark@strangeattractor.co.uk
AUTHOR'S STATEMENT

Mark Pilkington has released the following statement to coincide with the publication of 'Far Out: 101 Strange Tales from Science's Outer Edge'
"Whether we view the history of science as a grand teleological narrative or as some tangled information feedback network, the visionaries, dreamers, pioneers and charlatans documented in 'Far Out' are still very much part of that story. Sadly, too many of them have been forgotten or ignored, but, whether their ideas prove to have been right or wrong, these pioneers remind us that science is no monolithic, free-standing monument to progress. It is instead tightly woven into the fabric of our culture and as susceptible to fads, fashions and falsehoods as any other aspect of human behaviour. Some of these tales serve as warnings. Others, hopefully, may inspire future generations of scientists to dare to dream, theorise and invent. And, perhaps, to one day transform dreams into reality."
ABOUT THE BOOK
Did you learn about science in school? Did you wonder about the experiments that didn't work out?  The inventors who crashed and burned? The facts that turned out to be fiction? In this amazing little book, Mark Pilkington charts some of the more curious byways, scenic detours and inspired failures of scientists, inventors and, yes, crackpots, over the past few hundred years.
From the Aquatic Ape Hypothesis to Zero Point Energy, via the Hieronymous Machine and Phlogiston, Far Out tells the stories that are all too often ignored, lost or simply forgotten by conventional science books. Some of them are perhaps best left languishing in the margins of history, but others may yet change our future.
Covering physics, chemistry, biology, archaeology, psychology and other areas yet (or never) to be inducted into mainstream science, including Radionics, Keranography, Erototoxin, and Remote Viewing.
Far Out contains 101 tales of science that was, science that might have been, science that never should have been, and science that may yet be.
ABOUT THE AUTHOR
MARK PILKINGTON lives in London and edits the highly praised anthology of cultural marginalia Strange Attractor Journal (see www.strangeattractor.co.uk for more information). Mark is an experienced broadcaster and has also written for the Guardian, Fortean Times, The Wire and The Times.
CONTENTS
PART 1 It Seemed Like A Good Idea At The Time
PART 2 Amazing Inventions and Spirited Inventors
PART 3 Natural Marvels
PART 4 The Human Condition
PART 5 Far Out!