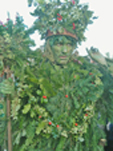 I'm excited to be speaking at this inaugural London Lore conference, alongside Medical London author Richard Barnett, The Folklore of London author Anthony Clayton, Ross McFarlane from the Wellcome Library, amongst others. Tickets are selling fast, so book yours now.
The London Lore conference: exploring London's traditions, customs and folklore, old and new.
Leaf-covered men striding the streets of south London, a time machine in West Brompton, strange goings on in the city's public houses, a shrine to the 'outcast dead' down a Borough side street, magical talismans gathered in early twentieth century London and much more. London rituals and some of the people behind them are brought to light at the London Lore conference.

The Folklore Society & South East London Folklore Society presents 'London Lore', a one-day conference on London Folklore to be held at the Bishopsgate Institute, Bishopsgate, EC2M.
25th April 2009, 9.30am – 5.30pm, £10 / £8 concessions.(Buy tickets online).
More info here.
Full lineup after the break.
 The complete line-up for the London Lore Conference is:
 Sarah Crofts:               The Deptford Jack-in-the-Green
Sonia Ritter:                'The Lions Part' Bankside festivals: the old in the new
Doc Rowe:                  London seasonal celebrations
Paul Cowdell:              Rats, redstarts, and ravens: animal-identified London
Noel Rooney:              London fox lore
Richard Barnett:          Folklore, medicine and the body in London's history
Scott Wood:                The Helpful Terrorist: An Urban Legend
Ross MacFarlane:       Edward Lovett and the Wellcome Historical Medical Museum
Neil Gordon Orr & Steve Roud:             Urban Magic: Edward Lovett and the Lovett Collection
Mark Pilkington:          The Brompton Cemetery time machine
John Constable:          The Southwark Mysteries and the Crossbones Shrine
Antony Clayton:           Strange brew – the folklore of London pubs
 Line-up can be subject to change. All speakers are available for an individual interview: please do not hesitate to contact Scott Wood on scott@selfs.org.uk / 
The South East London Folklore Society (SELFS) is a voluntary group that has been running for a number of years creating events based around folklore, magic and mystery. 
 The Folklore Society (FLS) is a learned society devoted to the study of traditional culture in all its forms. It was founded in London in 1878 and was one of the first organisations established in the world for the study of folklore.