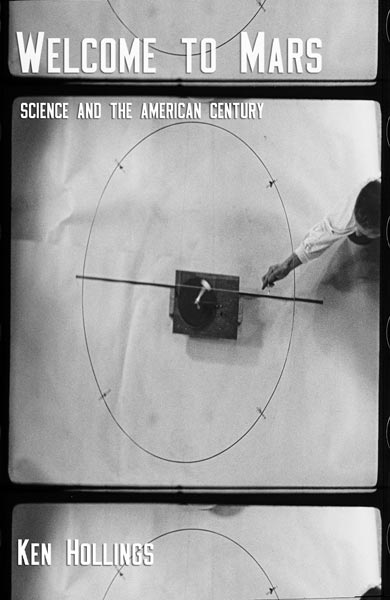 A few emails have asked whether there will be a new Strange Attractor Journal this year and the answer, unfortunately is no. A combination of other work commitments and economic realities has made it impossible to put a new anthology together, though I'm confident that we'll see one in late '08 or early '09. But things are far from quiet at Strange Attractor Press…
Spring '08 will see the publication of Welcome to Mars: Science and the American Century by Ken Hollings:
A story of weird science, strange events and even stranger beliefs, set in an age when the possibilities for human development seemed almost limitless, Welcome to Mars offers a fascinating, detailed chronology of where it all went wrong.
Ken Hollings draws upon newspaper accounts, advertising campaigns, declassified government archives, old movies and newsreels from the period to depict an unsettled time in which the layout of suburbia reflected atomic bombing strategies, bankers and movie stars experimented with hallucinogens, brainwashing was just another form of interior decoration and strange lights in the sky were taken very seriously indeed. After Welcome to Mars, you'll never be able to think about the 1950s the same way again.
The book is a radically revised and expanded version of Ken's Resonance FM radio series of the same name, and we hope that the first hundred or so copies of the book will come with a CD of music specially prepared by Ken's regular sonic collaborator Simon James.
Following Welcome to Mars comes a major publishing project in collaboration with the Wellcome Trust. We can't reveal too much about this at the moment, except to say it's a unique history of London, written by Richard Barnett and edited by Mike Jay. SAP are also hoping to publish a book of essays by and about the bio-chemist and LSD discoverer Albert Hoffman; more on this to follow.
On a personal note, following the release of Far Out, I've signed up to write Mirage Men for Constable Robinson, a book companion to the documentary film that John Lundberg and I have been working on since 2004. As I've discovered, film making is a slow and expensive process, but John and I are extremely excited about the material we've gathered thus far and I think both the book and the film will be real eye-openers for anyone with an interest in intelligence, deception, contemporary folklore and popular culture (notice how I didn't mention UFOs!). Our research continues, but both the book and the film should be ready for the world sometime in 2009.
Meanwhile, the Strange Attractor Shoppe will be closed until the New Year, though I hope to be able to make sporadic updates to this site. Until 2008, have a kule yule y'all… Mark