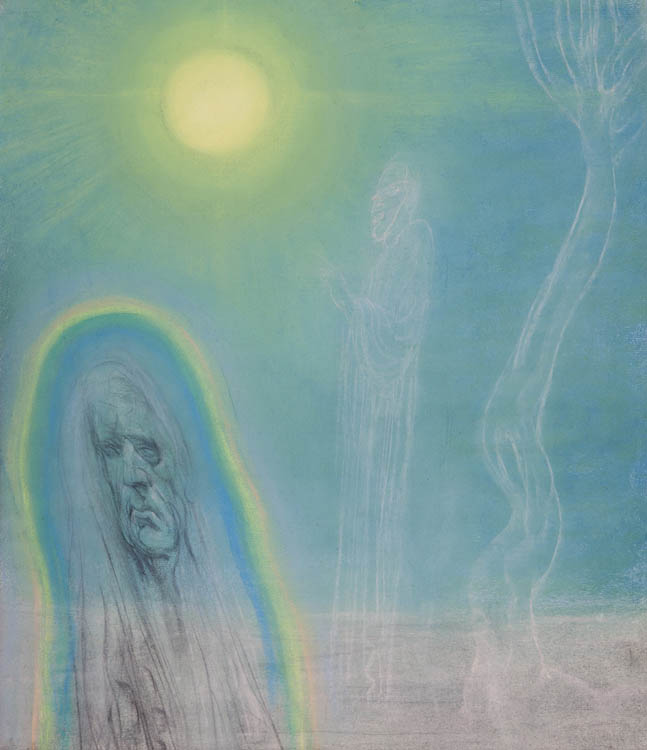 AUSTIN OSMAN SPARE PRINT EDITION #2
Astral Body and Ghost (1946, pastel).
The second in a series of fine art prints from the work of Austin Osman Spare, presented by Strange Attractor Press in collaboration with artist and musician Ossian Brown.
Astral Body and Ghost is perhaps one of Spare's most prominent later artworks, a magical pastel created in 1946 and shown at the Archer Gallery, London, in 1947.
Limited to 65 copies, this Giclée print is presented on Hahnemühle Fine Art paper and produced to archival standards.
Its dimensions match those of the original artwork, 38.5cm by 45 cm.
Each print is hand-numbered, blind-embossed with an 'AOS' signature, and comes with a certificate of provenance.
The picture is from Ossian Brown's collection and has been photographed for this edition by Alex Brattell.
Each print costs £99 plus postage – it will be packaged in an extra-strong tube and sent as a Special Delivery in the UK, and Signed-for internationally.) Prints will be shipped out in mid-May 2012.