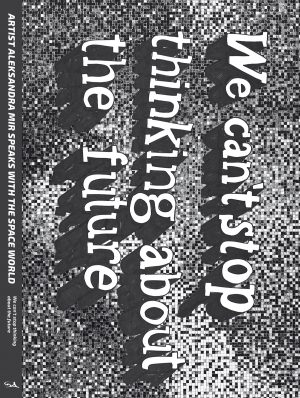 Artist Aleksandra Mir Speaks With The Space World

Aleksandra Mir
Paperback
300mm x 200mm
144pp, 44 images
£13.99
ISBN: 9781907222542
This book provides a companion to Aleksandra Mir's latest body of work Space Tapestry: Faraway Missions, exhibited at Tate Liverpool and Space Tapestry: Earth Observation & Human Spaceflight exhibited at Modern Art Oxford.
Inspired by the Bayeux Tapestry and the anonymous artists who depicted Halley's Comet in 1066, the Space Tapestry is a large-scale, hand-drawn monochrome wall-hanging that forms an immersive environment. Much like a graphic novel, Space Tapestry tells an episodic visual story of space travel.
Over the past three years, Mir has maintained dialogues with professionals in the space industry and academia who have informed and inspired her. The work draws on themes relating to current debates, recorded events, scientific discoveries, technological innovations and predictions of imagined futures that currently affect all our lives.
This book contains both reproductions of the finished work and images from its collaborative creation with twenty-five young artists. It also contains sixteen in-depth new interviews with a wide range of professionals working in the space industries today, providing an intimate and informative insight into the present and future of space exploration.
Interviewees:
Rebecca Charnock, Astrobiologist, Aberystwyth University
Stuart Eves, Lead Mission Concepts Engineer ,Surrey Satellite Technologies Ltd
Jayanne English, Astronomy Imaging Expert,  University of Manitoba / Hubble Heritage Project
Helen Fraser, Astrochemist, Open University
Delia Di Filippantonio, Design Thinker, Satellite Applications Catapult
Alice Gorman, Space Archeologist, Flinders University, Adelaide
Sanjeev Gupta, Strategic Planner, NASA Mars Rover Mission
Andrew Kuh, Technical Regulations Manager, UK Space Agency
Marek Kukula, Public Astronomer, Royal Observatory Greenwich, London
Andrea Moretti, Network Control Centre Manager,Inmarsat
Thais Russomano, Medical Doctor, MicroG Centre / PUCRS University
Clara Sousa-Silva, Quantum Astrochemist, Massachusetts Institute of Technology, Cambridge, USA
Jill Stuart, Space Law Expert, London School of Economics / METI International
Matthew Stuttard, Advanced Systems Architect, Airbus Defence and Space
Jan Woerner, Director General of the European Space Agency, Paris
Chris Welch, Director of the interdisciplinary MSc in Space Studies, International Space University in Strasbourg
About the Author:
Born 1967 in Lubin, Poland, a citizen of Sweden and the United States, and based in London, the artist Aleksandra Mir has an international practice of twenty-five years, with numerous exhibitions worldwide, including The Space Age, a retrospective at M-Museum, Leuven, 2013, and the 34m mural Drawing Room, London, 2014. She has developed many large-scale collaborative projects on space exploration. Her most well-known project, First Woman on the Moon (1999), has been touring for seventeen years and is included in the collections of The Solomon R. Guggenheim Museum and the Tate.