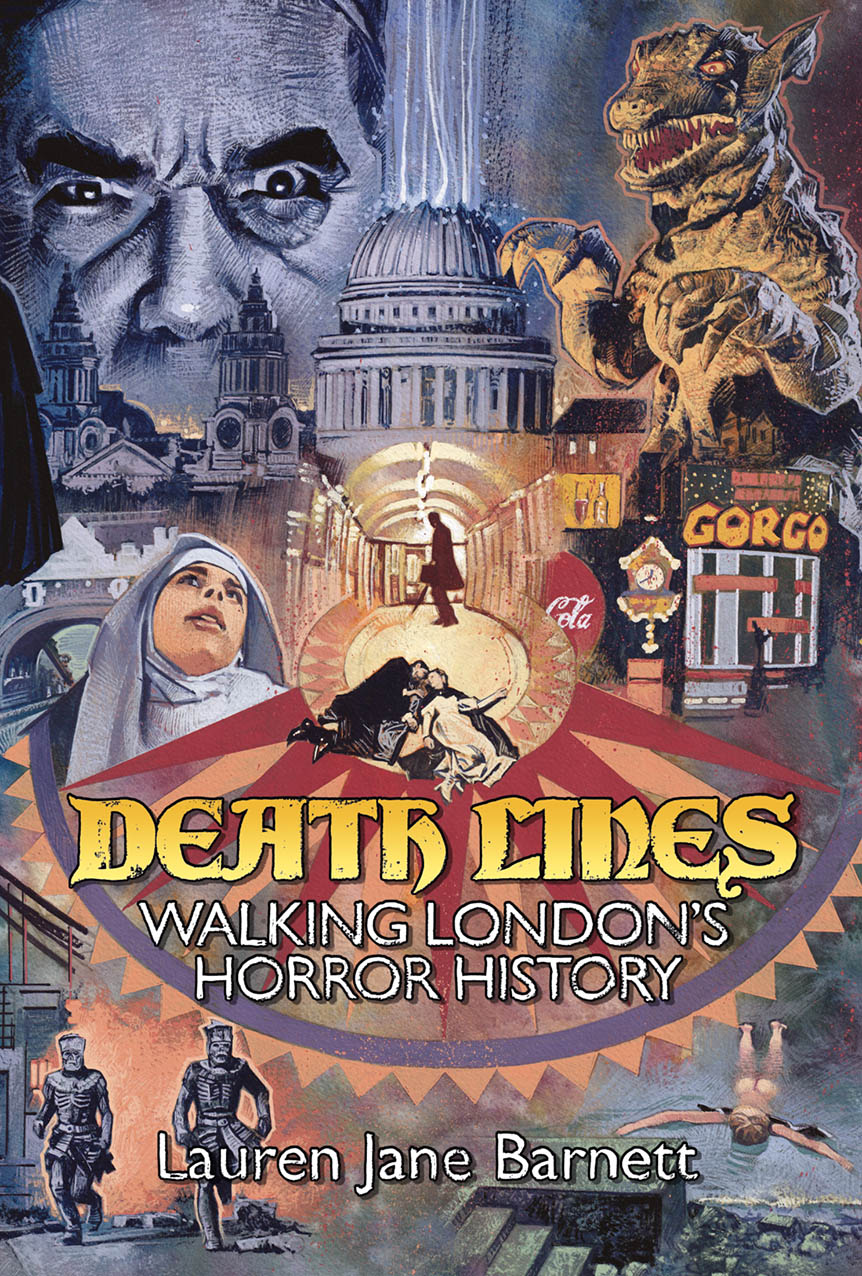 Walking London's Horror History
By Lauren Jane Barnett
£16.99
ISBN: 9781913689384
240 pp. | 5 in x 7.5 in
10 b&w illus.

Available January 2023.

PB £16.99
All orders received through our web site will receive a bonus set of postcard maps of the walking routes. (While stocks last).
"Death Lines is the London A to Z horror fans will need … a guide to the darker shadows of the city, for those who want to walk in the steps of vampires, ghouls, monsters and sundry fiends of the fog"
Kim Newman
"A thrilling collection of themed walks through the underbelly of London's psychotronic cinema, imbued with the peculiar sensation of overheard whispers imparting arcane knowledge of the double lives of the city's dark corners and iconic structures."
Kier-La Janisse
"Wonderfully engaging and informative… for horror film lovers with a passion for London locations and flaneurs with a penchant for the macabre and the haunted."
Virginie Selavy
The first walking guide to London's role in the evolution of horror cinema, inspired by the city's dark histories and labyrinthine architectures.
Death Lines is the first walking guide to London's role in the evolution of horror cinema, inspired by the city's dark histories, labyrinthine architectures, atmospheric streetscapes, and uncanny denizens. Its eight walks lead you on a series of richly researched yet undeniably chilling tours through Chelsea, Notting Hill, Westminster, Bloomsbury, Covent Garden, and the East End, along the haunted banks of the river Thames, and down into the depths of the London Underground railway.
Each tour weaves together London's stories and takes the reader to magnificent, eerie, and sometimes disconcertingly ordinary corners of the city, unearthing the literature, legends, and history behind classics like Peeping Tom and An American Werewolf in London, and lesser-known works such as mind-control melodrama The Sorcerers; Gorgo, Britain's answer to Godzilla; tube terror Death Line; and Bela Lugosi's mesmeric vehicle The Dark Eyes of London. Tinged with humor, social critique, and more than a few scares, Death Lines delights in revealing the hidden and often surprising relationship between the city and the dark cinematic visions it has evoked. Whether read on the streets or from the comfort of the grave, Death Lines is a treat for all cinephiles, horror fans, and lovers of London lore.