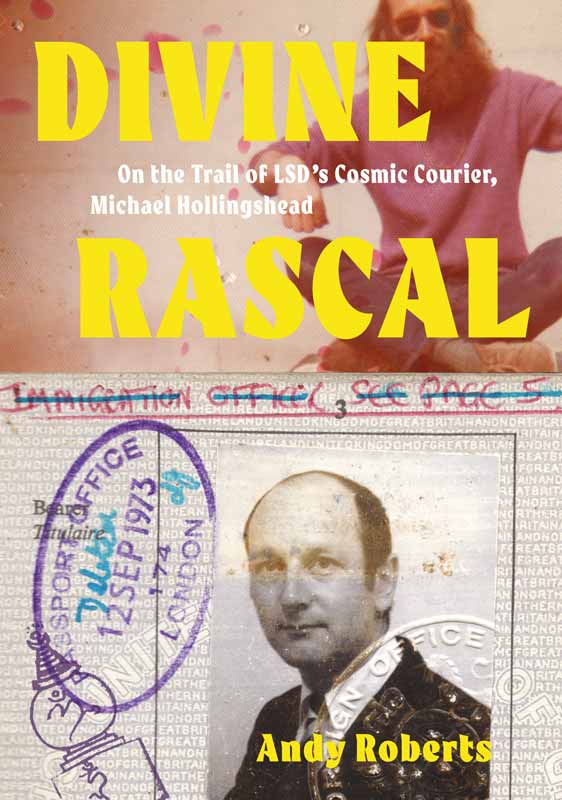 Divine Rascal: On the Trail of Michael Hollingshead, LSD's Cosmic Courier

by Andy Roberts
304pp fully illustrated b/w 148 x 210 mm
PB & HB
ltd Hardback (200 copies)
£16.99 / £25.00
Of all the figures associated with the history of LSD there is none more enigmatic than Michael Hollingshead. Appearing as if from nowhere, he turned Timothy Leary on to LSD in 1962, and was influential in Leary's years at Harvard,
Millbrook and beyond.
A Zelig-like character, Hollingshead became a key player in London's early LSD scene, where he established the World Psychedelic Centre in swinging Chelsea. Following a spell in prison, where he dosed KGB spy George Blake, he continued to pursue adventures with the Brotherhood of Eternal Love, established a psychedelic commune on a remote Scottish island, created the first electronic I Ching installation, published an underground magazine, and spent time in Nepal, before dying a mysterious death in Bolivia in the 1980s. Divine Rascal tells his improbable story for the first time.
ABOUT THE AUTHOR
Andy Roberts is widely regarded as an authority on contemporary folklore and psychedelic history. He is the author of several books, most recently Acid Drops: Adventures in Psychedelia and Albion Dreaming: A Popular History of LSD in Britain.