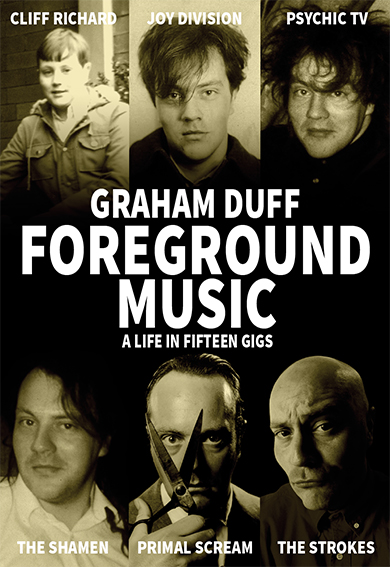 FOREGROUND MUSIC
A LIFE IN FIFTEEN GIGS
Graham Duff
PB 368pp
210mm x 148mm
30 illustrations
£15.99
Introduction by Mark Gatiss
Coming October 2019
"Foreground Music is an absolute gem. Charming, very funny and often achingly melancholy, Graham Duff's memoir is suffused with a genuine passion for live music and its (occasionally eccentric) power.
—Mark Gatiss
"Touching and funny"
Cosey Fanni Tutti
"A must have for those of us who escaped our parents' terrible musical tastes. A love letter to the music and period that defined a generation. Full of joy and pathos, it left me yearning for a world before 'X Factor' when music was about something."
– Steve Coogan
"Smashing Stuff. If you want to bluff I was there, read this."
– Vic Reeves
"Dismiss any notion that each chapter is simply a gig review… Foreground Music is as much a history as it is a memoir … A conversation that will stick with you long after you've made your way home and are flipping inspiredly through your own stacks of vinyl and scores of memories. It's the sign of a great book that you miss it once you've finished, and upon closing these pages one wishes that there was still more to read…"
– The Quietus
Foreground Music is the result of a lifetime's passion for gig-going by one of British television's most individual writers.  From a Cliff Richard gospel concert at the age of 10, to his first rock show aged 14, where The Jam play so loudly he blacks out, to a Joy Division gig which erupts into a full-scale riot.
Vivid, insightful and very funny, each chapter covers a different gig, including Primal Scream headlining Glastonbury at the height of Screamadelica, and the troubled reformation of The Velvet Underground. Taking in the first UK headline gig by The Strokes in a room above a pub, and the final arena tour by David Bowie.
Along the way Duff experiences pub-crawls with Mark E. Smith of The Fall, convinces Paul Weller to undertake his first acting role and attempts to interview Genesis P. Orridge of Throbbing Gristle whilst tripping on LSD.
Foreground Music captures the power of life-changing gigs, whilst tracing the evolution of 40 years of musical movements and subcultures. But more than that, it's an honest, touching and witty story of friendship, love, creativity and mortality, and a testimony to music's ability to inspire and heal.
ABOUT THE AUTHOR
Graham Duff is a British TV comedy and drama scriptwriter whose credits include Ideal and The Nightmare Worlds of H.G. Wells. As an actor he has appeared in, among other things, two Harry Potter films, Alan Partridge, and Dr. Who.