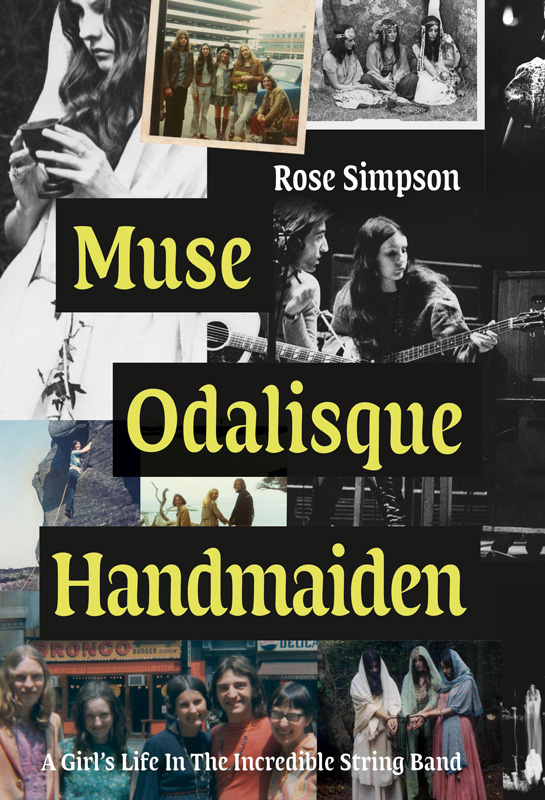 A Girl's Life in The Incredible String Band
by Rose Simpson

266pp, 154mm x 240mm
Heavily illustrated in BW & 16 colour pages, with many never-seen-before images from the author's personal archive.
HB (edition of 500 copies) £25, with a bookplate signed by Rose Simpson
Paperback £15.99
ISBN 9781907222672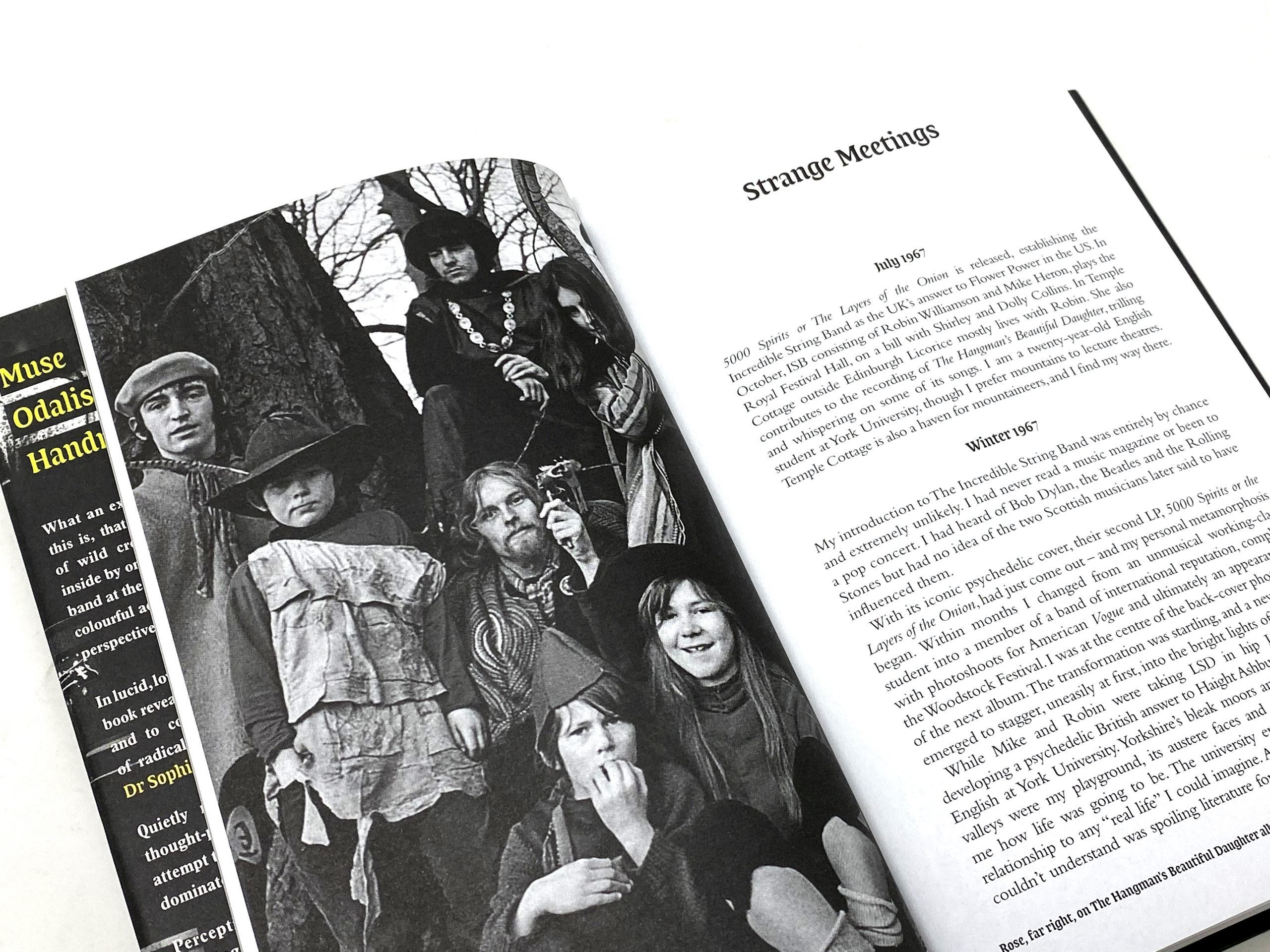 Anyone with an interest in this idealistic era and its legacy will enjoy Simpson's wealth of vignettes and  insights.  Rob Young, The Wire

What an extraordinary and intoxicating tale this is, that impossibly fabulous late '60s world of wild creative adventure viewed from the inside by one of the very few women playing in a band at the time. A whole era seen from a new perspective: fascinating. Mark Ellen
An illuminating and engrossing read. It is both a celebration of the ISB's achievements and a gentle warning regarding how the very best of intentions can go astray. Richard Foreman, International Times.
A quietly revelatory account of her days as a member of the Incredible String Band: at once pragmatic, grounded and assured, while alive to the psychedelic wonder and magic of the times, and to the beauty of the music she created along with Licorice, Mike and Robin… A beautifully-written, thought-provoking account of a woman's attempt to create a space for herself in a male-dominated musical world.

Alasdair Roberts
Between 1967 and 1971 Rose Simpson lived with the Incredible String Band (Mike Heron, Robin Williamson and Licorice McKechnie), morphing from English student to West Coast hippie and, finally, bassist in leathers. The band's image adorned psychedelic posters and its music was the theme for an alternative lifestyle.
Rose and partner Mike Heron believed in, and lived, a naive vision of utopia in Scotland, but they were also a band on tour, enjoying the thrills of that life. They were at the centre of Swinging London and at New York's Chelsea Hotel with Andy Warhol's superstars. They shared stages with rock idols and played at Woodstock in 1969. Rose and fellow ISB member Licorice were hippie pin-ups, while Heron and Robin Williamson the seers and prophets of a new world.
Through a haze of incense and marijuana, they played out their Arcadian dreams on stages brilliant with the colours of clothes, light-shows, rugs, cushions, and exotic instruments. But like most utopias, the ISB's imploded, leading from psychedelic dream-world to the harsh alternate realities of Scientology and celebrity.
Never seeing herself as a professional musician, Rose retained an outsider's detachment even while living the life of a hippie chick. Her dreamy, yet firmly-grounded memoir gives voice to those flower-wreathed girls whose photographs have become symbols of the psychedelic sixties.
In lucid, lovely, and lilting prose, Rose Simpson brings to life her experiences as a member of one of the greatest psychedelic folk bands. With refreshing honesty and an attuned sensibility to the ethos of the period and its indispensable soundtrack, Rose's memoir offers a sharp personal portrait of the music scene at the twilight of the 60s and dawn of the 70s. This memoir couldn't be timelier. In the last ten years, a growing body of life writing has shone a much-needed light on women's contributions to the counterculture, and particularly within the supposedly male domain of the music industry. This book can be placed alongside recent classics of musical memoir from artists as wide-ranging as Cosey Fanni Tutti, Shirley Collins, Patti Smith, Kim Gordon and Viv Albertine. Much more than muse, than odalisque, than handmaiden: Rose Simpson's book reveals to us what it means to live together and to co-create: to push at the boundaries of radical possibility, both in art and in life.
Dr Sophia Satchell-Baeza
Rose Simpson's memoir is warm-hearted yet clear-sighted, at once dazzled and wry. This is a legendary, magical time told from a new perspective, by a young woman who was both witness and participant in the very male late Sixties music scene. Perceptive and acute in its reflections… it's a moving story about encountering something astounding and transformative early in one's life, and in the end needing to leave it for sanity's sake. And how one lives honestly with all that early brightness.
Andrew Greig