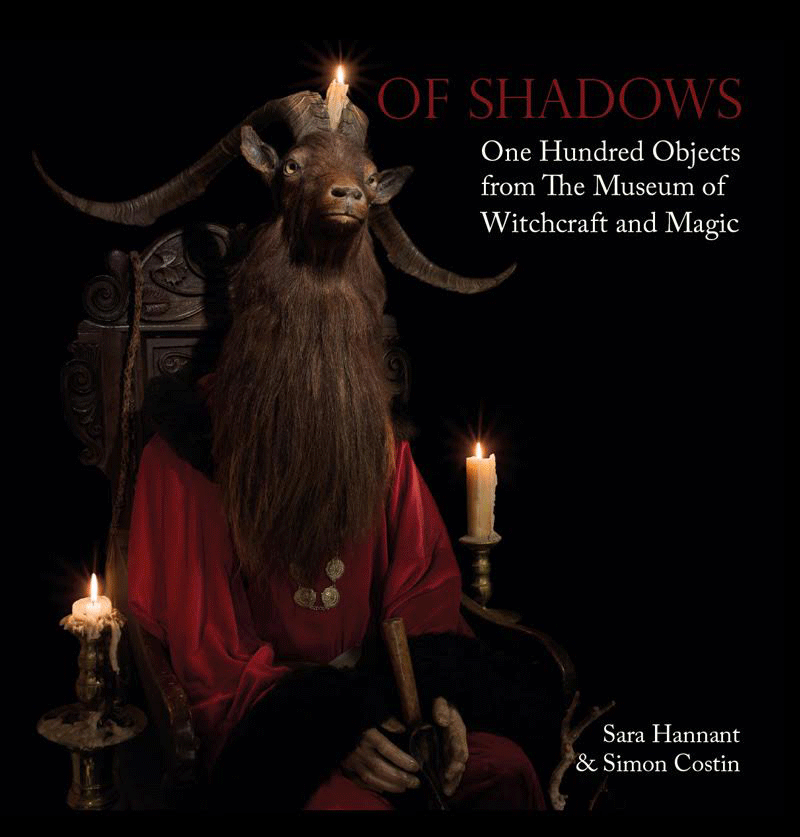 Nominated for the Folklore Society's 2017 Katherine Briggs Award.
Of Shadows
One Hundred Objects from The Museum of Witchcraft and Magic
By Sara Hannant and Simon Costin 
225 x 225 mm, 240pp
Over 120 images in colour & BW.
Available in pb, limited hb and Special editions.
£25/£35/£50
One hundred objects, exuding magic and mystery, emerge from the darkness of Cornwall's much-loved Museum of Witchcraft and Magic in this book of haunting photographs.
Artist and photographer Sara Hannant has captured the very essence of these carefully-selected artifacts, including wax dolls, wands, statues, daggers, pendants, robes and amulets. Each striking image tells its own vivid tale of belief and ceremonial practice.
Accompanying the photographs are informative texts from Sara Hannant and Museum director Simon Costin, as well as an illuminating introduction by the leading historian of British witchcraft and magic, Ronald Hutton.
Sara's pictures are rites of evocation… a radically new and exciting approach to the work of representing the past to the present.  ~ Ronald Hutton
Available in three editions – Hardback Special Edition, Standard Hardback (limited to 500 copies, includes postcards) and Paperback.
"A feast for the eyes and mind of anyone fascinated by mankind's long history of ritual and superstition, and how our relationship with and belief in occult practices has evolved over time"   Arnolfini Bookshop
"A beautiful new book… satisfyingly square-shaped, full-color, and impeccably designed, making it a rather totemic object unto itself"  Phantasmaphile
"Of Shadows is intriguing. The positioning of the subjects doesn't detract from their mysterious nature and yet conveys a great deal of objective information.  The captions are very informative and help to add to the experience of viewing these unique pieces."
Lens Culture
"Revealing many fascinating aspects of folklore and tradition, and what Sara calls 'the power of ritual to connect with the changing seasons'"  The Countryman