Robert Scoble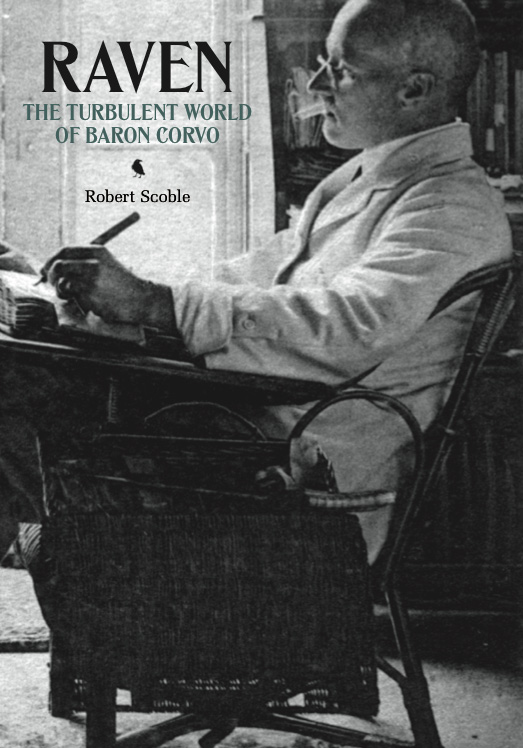 424pp, 210mm x 148mm
Limited edition HB, £25
Heavily illustrated
ISBN: 978-1-907222-238
The trajectory of his turbulent life was breathtaking, his range of experience vast.
In this evocative book, the first biographical overview of Corvo's world in almost 40 years, noted Corvo scholar Robert Scoble examines the writer's character and motivations. 
"Engaging and informative… Robert Scoble's two volumes Raven and The Corvo Cult respectfully address his relations with a number of equally obscure contemporaries, and his literary afterlife. Together, they add an extraordinary amount of new information, and clarify much that had remained imprecise or unclear in Rolfe scholarship." TLS
"The Baron emerges as a far more sympathetic, original and complex figure than his biographers have chosen to portray" The Literary Review
"No latterday Corvo devotee should miss Robert Scoble's Raven"
The Book Collector
"His Corvine scholarship is prodigious" The Times Literary Supplement

"One of the best books I read last year was Raven by the scholar Robert Scoble…The book is impeccably researched, designed and illustrated' David Streitfeld, The New York Times, 26 January 2015.
On an overcast October afternoon in 1913, the lifeless body of a middle-aged Englishman was found sprawled across his bed in a run-down palazzo on Venice's Grand Canal. Thus ended the life of one of the most extraordinary sons of Edwardian England, Baron Corvo, a gifted writer and painter.
Baron Corvo – whose real name was Frederick Rolfe – was one of the most remarkable sons of Edwardian England, a gifted writer and painter who pursued the world of his imagination in the face of countless obstacles and colossal hardships.
Corvo lived in palaces, rectories, stately homes and workhouses. He knew bishops, ambassadors, duchesses and prime ministers. He consorted with gondoliers, masseurs, navvies and prostitutes. He debated with historians, archaeologists, poets and professors. His sad destiny was to fall out with almost all of them, as each failed to live up to his strange and antique standards, feeding his paranoiac conviction that he was surrounded by scheming and ill-intentioned enemies.
Raven rescues from history a number of men and women who lived a century ago.  A scrawny conman who convinced the English newspaper-reading public that he was the nation's athletics champion.  A lonely old Italian duchess living out her last days in a palace on Lake Nemi.  A respected librarian secretly casting the horoscopes of world celebrities.  An American businessman who ruined his entire family overnight.
Robert Scoble has drawn on his three decades of research in hitherto undisturbed library archives and troves of family letters to produce these essays in microhistory. He shows how these lives intersected in the story of a great eccentric who assumed the bogus title 'Baron Corvo' and spent his final years scandalising pre-war Venice.