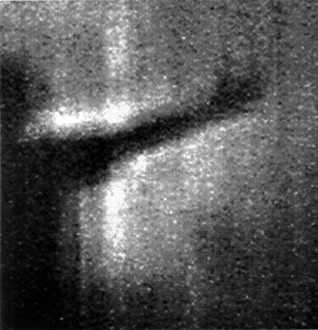 By Disinformation
2003, Book/Catalogue
204 x 204mm, 50pp,
£10
Featuring a critical text by the art historian, curator and Wyndham Lewis biographer Richard Humphreys, The Analysis of Beauty is a high-quality 204mm-square 48-page perfect-bound paperback, which documents the activities of the installation art and electronic music project Disinformation.
Described by The Metro newspaper as "the black-ops unit of the avant-garde", and by the author Hari Kunzru as "the poet of noise", from 1995 onwards Disinformation began work on a program of research which led to a series of highly-innovative and influential LPs and CDs, which focussed on exploring the creative potential of recordings of electromagnetic (often VLF radio) noise phenomena – interference from live mains electricity, electric storms, underground railway systems, industrial and IT hardware, and even the sun.
"The Analysis of Beauty" catalogue documents the evolution of Disinformation's artistic strategies and content, also focussing on the title-exhibit ("The Analysis of Beauty" is named after the book by the artist William Hogarth), the "Spellbound" video ("An Allegorical Portrait of J Robert Oppenheimer"), "Theophany", the "Rorschach Audio" side-project, "National Grid", "Stargate" (solar radio noise recordings), and Disinformation's equally influential work at the abandoned village of Imber on Salisbury Plain, and photographic and film documentation of the UK's extraordinary air-defence Sound Mirrors. Jessica Lack wrote in The Guardian that "Disinformation combine scientific nous with poetic lyricism to create some of the most beautiful installations around".