Robert Scoble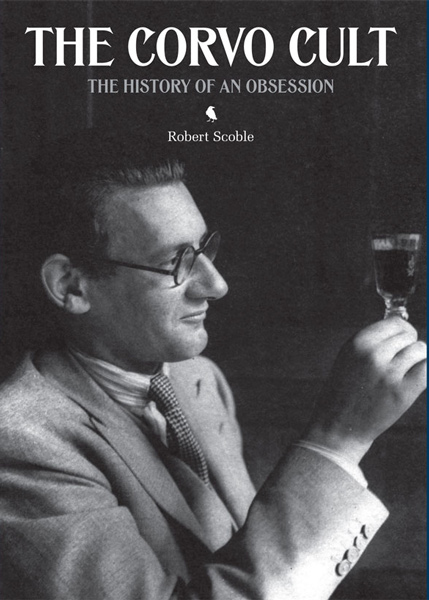 480pp, 210mm x 148mm
Limited edition HB, £25
Heavily illustrated
ISBN:  978-1-907222-30-6
"Engaging and informative… Robert Scoble's two volumes Raven and The Corvo Cult respectfully address his relations with a number of equally obscure contemporaries, and his literary afterlife. Together, they add an extraordinary amount of new information, and clarify much that had remained imprecise or unclear in Rolfe scholarship." TLS
"I can hardly wait for a long, hot weekend to read Robert Scoble's tandem works of scholarship and research. They are, what's more, exceptionally handsome books" – Michael Dirda, The Washington Post, 2 July 2015
A handsome young publisher who spent weeks every year gambling in Monte Carlo casinos.
A Catholic monsignor who told fireside ghost stories to undergraduates. A shabbily-dressed bookseller who lived in a garden hovel.
A group of university librarians who specialised in arcane literature and erotica. A biographer who spent lavishly the subscriptions of his fellow club members. A collector whose single-mindedness finally overwhelmed him.

What all these men had in common was an unshakeable obsession with the life and work of the English writer Frederick Rolfe, better known under his pseudonym 'Baron Corvo,' who led a startlingly eventful life, outraged Edwardian London and Venice, and bequeathed to posterity a cluster of lively and compelling novels and short stories.
Corvo himself had no doubt that he was destined for celebrity.  'Everything that relates to me,' he proudly wrote, 'will be of interest some day,' and over the course of the century since his death, this unlikely prediction came true, albeit not quite in the way he expected.  Universal fame eluded him, but his memory was kept alive by a tiny and obsessive band of enthusiasts, adherents of the Corvo cult, who collected his books, competed for his relics and memorabilia, and championed his place in literature.
This book recounts the history of one of the twentieth century's most resilient literary cults. Biographies sometimes make tangential mention of posthumous reputations, but this is the first time that the trajectory of one particular literary cult has been described with such completeness.
Corvo scholar Robert Scoble has tracked down the cultists' letters and notes, piecing together their associations and interactions, and illuminating in unprecedented detail the unlikely story of the Corvo cult's growth and ultimate prosperity.
Author Robert Scoble is always interested to hear from his readers.  His email address is robscob[at]outlook.com