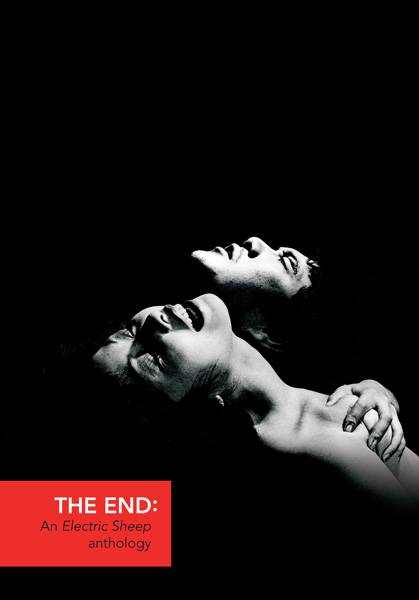 Edited by Virginie Selavy
260pp, PB, illustrated, £9.99
ISBN 978-1907222023
The End is The Beginning

It is superb – a masterly accomplishment.   Beautifully produced – and its 'content' – and vision – could not be more accurate and timely. Peter Whitehead

'Electric Sheep writes about film for people who like film: a classic approach.'
Norman Lebrecht, The New Statesman

'Refreshing and original, Electric Sheep explores the world of film from myriad angles with wit and imagination.'
Jennifer Higgie, Frieze
SPECIAL ANNIVERSARY OFFER PRICE OF £9.99!


Or pay by cheque, £UK only, payable to Strange Attractor Press Ltd and sent to BM SAP, London, WC1N 3XX, UK.
About the book
Acclaimed film magazine Electric Sheep presents a bold anthology of new and exclusive writing from cinema's sharpest edge.
From the gutter to the avant garde, The End brings together a mind-bendingly eclectic programme of films, authors, artists and directors to create a unique new vision of cinema past, present and future.
Follow us into the darkness and you'll find Bill Morrision's chemical ghosts, the Bad Girls of '50s exploitation films, apocalyptic Nigerian evangelists, shuffling zombies, the human centipede, Kôji Wakamatsu's Japanese nihilists, David Lynch's sonic cinema, Clouzot's lost Inferno, the Brothers Quay, Vincenzo Natali, Ingmar Bergman's final thoughts and more.
Contributors include:
Jim Harper (Flowers from Hell: The Modern Japanese Horror Film)
Greg Klymkiw (producer of Guy Maddin's Careful)
Frances Morgan (former editor of Plan B Magazine)
James Rose (Beyond Hammer: Contemporary British Horror Cinema)
Jack Sargeant (Deathtrippping: The Extreme Underground)
'Electric Sheep is idiosyncratic, 'intelligent, informed and it really  knows and cares about cinema.  Long may it prosper.' The Wire
Catch a glimpse of The End with these PDF samples:
* Contents
* Frances Morgan – Darkness Audible: Sub-bass, tape decay and Lynchian noise
* Alex Fitch & Tom Humberstone – Legacy of the Dead
* Ian Francis –  A Feast of Skeletons at cinema's end