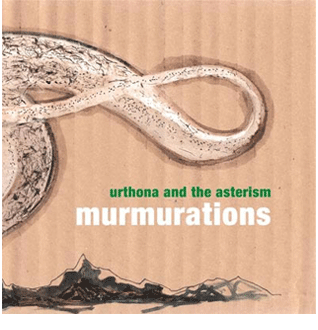 Further 005
CD, 44 mins
❦
…like a feral snotty nephew of John Cale's pre-Velvets drone experiments… Merzbow at his most 'rock' …early Tangerine Dream had they favoured the horse-drawn cart to the space rocket.
Alan Holmes, Freq
Further Recordings are immodestly pleased to announce their fifth CD release, Murmurations, the first collaboration between Urthona and The Asterism.
Murmurations is less of a soundclash than the fallout from two worlds in collision: Urthona's rural guitar-based heaviness slams into The Asterism's towering analogue electronics, somewhere in space between Princetown and Fitzrovia.
The album features two instrumental pieces:
River Severn Bore (24.20) is an infinitely cascading surge of sound that makes you wonder what would have happened if an angry Neil Young had interned at the BBC Radiophonic Workshop. RSB began life as a pulsating Asterism synthline that was guitared-up, trampled under foot and re-assembled by Urthona.
Murmurations (19.50) was inspired by the annual starling swarms that invade the Somerset levels each Winter. Initially a gently-flowing, aetheric Urthona guitar piece, it was quickly savaged by The Asterism's synthesised sparrowhawks who left only a shower of blood and feathers in their wake.
Murmurations comes in a three panel sleeve featuring original artwork and inserts by Catharyne Ward.