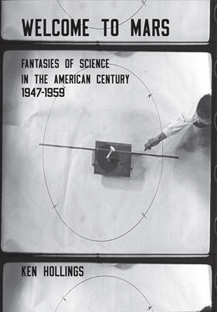 by Ken Hollings
312pp, pb, £9.99, illustrated, index
ISBN: 9780954805487
About the book
A remarkable book… quite simply, essential reading.
Fortean Times
Welcome to Mars is an iconoclastic, penetrating and darkly humorous history of America from 1947-1959, the decade in which the nation defined its image and created the blueprint for the world we live in today.
…an exemplary exercise in cross-specialism history… a rollercoaster ride through the dreamtime of post-war American esoteric, technological and mass culture with a wealth of often amazing and sometimes shocking information on every page.
Furtherfield
…like the LSD that plays a fascinating supporting role in the proceedings, this book rewards persistence… soon the connections filter through, offering more and more frequent glimmers of golden insight. Hollings' acausal roller coaster is cumulative, gathering aesthetic and imaginative potency with each chapter. By the end, you feel breathless with panic and wonder… Gyrus,Dreamflesh.com
Welcome To Mars draws upon newspaper accounts, advertising campaigns, declassified government archives, old movies and newsreels from this unique period when the future first took on a tangible presence. Ken Hollings depicts an unsettled time in which the layout of Suburbia reflected atomic bombing strategies, bankers and movie stars experimented with hallucinogens, brainwashing was just another form of interior decoration and strange lights in the sky were taken very seriously indeed.
Welcome to Mars is a map of the post-war Zone, a non-fiction Gravity's Rainbow that follows the arc of Germany's V2 rocket to the end of the rainbow – to America.  Erik Davis
Seamlessly interweaving developments in technology, popular culture, politics, changes in home life, the development of the self, collective fantasy and overwhelming paranoia, Hollings has produced an alarming and often hysterically funny vision of the past that would ultimately govern all of our futures.
Ken Hollings shows brilliantly how the extraordinary web of technologies that drove the Cold War have shaped not just our culture but the very way we think of ourselves as human beings. Welcome to Mars offers a rare and fascinating glimpse of the roots of the strange humanoid culture we live in today.
Adam Curtis
All orders of the book will receive a free hour-long CD of classy analogue Outer Space exotica by Simon James, while stocks last.
Buy for Kindle on Amazon UK or Amazon USA