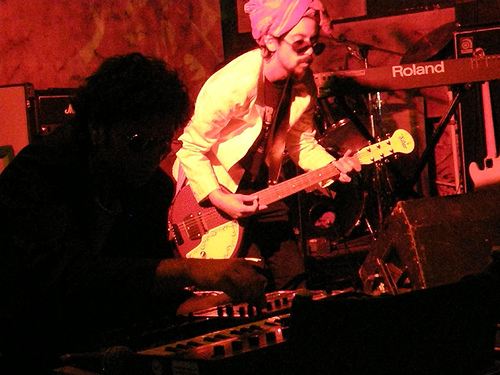 [Raagnagrok photo:
Al Robertson]
Two special events coming up featuring Strange Attractor favourites Erik Davis, author of Techgnosis and The Visionary State, and M John Harrison, author of The Course of the Heart, Light, Nova Swing and more.
On Saturday 28 July, Erik brings guitar and voice to synth and electric sitar astralnauts Raagnagrok (above) for a gig at Stage B, 98 Stoke Newington Church St, London N16. This is organised by our good pals The Drones Club, and also features Djinn playing Arabic beats and live reeds and pipes. Doors at 8pm, £4 tax.
Sunday 29 July sees the team mutate into straight edge synth duo Grok, fronted by live readings from both M John Harrison and Erik Davis. This is part of Resonance FM's 'Month of Sundays' series and also features comedy from Simon Munnery, science chat from Little Atoms, Dexter Bentley, Marvin Suicide and more.
8pm until 12 Mindnight (Doors 7.30) £5
Corsica Arts Studios, Unit 5, Farrell Court Elephant Road London SE17 1LB
Join us!