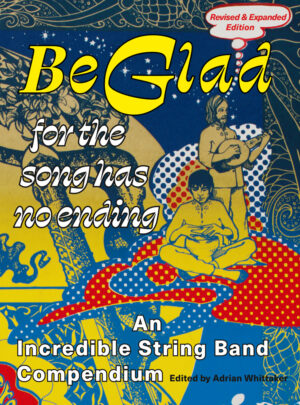 An Incredible String Band Compendium
Revised & expanded edition
Edited by Adrian Whittaker
704pp, HB/ PB,
165 x 221 mm
220+ b/w illus,
8pp of colour
ISBN: 978-1-913689-50-6
£40 /£25
Our collectors' hardback edition is limited to 350 copies. It features debossed boards, ribbon and a variant dust jacket. It also comes with a chapbook containing Allan Frewin's ISB comix from the original zines, with a card signed by the artist.
"A reminder that 'fan' is short for 'fanatic', Be Glad is as unique, layered, colourful and immersive as The Incredible String Band themselves. It hits a perfect sweet spot between learned critical analysis and freewheeling, life-affirming adventuring through an entire milieu. Multi-voiced and deeply researched, but never indulgent, it is not only a beautiful object, but an important historical artifact of a time never to be repeated."
– Benjamin Myers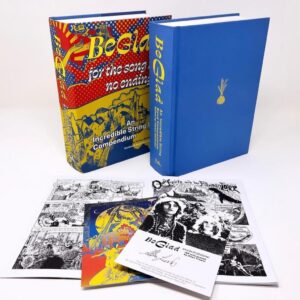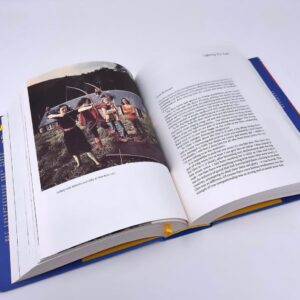 All HB and PB copies ordered from SAP will come with a postcard, while stocks last.
A wide-ranging collection of interviews, anecdotes, essays, and ephemera concerning one of the most enigmatic bands to emerge from the 1960s psych-folk scene.
First published in 2003 and long out of print, Be Glad For The Song Has No Ending: An Incredible String Band Compendium is the definitive book about the ISB. Containing a wealth of interviews, essays, and ephemera from the band's brief but tangled history, this new revised and expanded edition includes two new pieces by ISB member Rose Simpson on Witchseason Productions' idiosyncratic offices and on recording with the ISB in the Sound Techniques studio, as well as interviews with Neil Tennant of Pet Shop Boys, folk musician Alasdair Roberts, and Ossian Brown of Coil and Cyclobe. Other contributors include Mike Heron, Robin Williamson, Rowan Williams, ISB manager and producer Joe Boyd, Andy Roberts, Billy Connolly, and Raymond Greenoaken.
About the editor
Adrian Whittaker has written for The Wire, Shindig!, and Record Collector. In 2003 he edited Be Glad: An Incredible String Band Compendium. In 2019 he published Fitting Pieces To The Jigsaw, the definitive book on Irish psych-folk band Dr. Strangely Strange. He has also written and presented a number of music history documentaries for Resonance FM.
Reviews
"Encyclopaedic in scope, passionate in tone, this book is a minotaur's labyrinth of information about one of the most remarkable groups in 20th century music. Be glad, for everything you need to know is here." (Rob Young, The Wire)
Contents:
Introduction to the new edition
Forewords and a brief ISB history
One: The Edinburgh years
Two: From onion layers to a beautiful daughter, plus Mimi and Mouse
Three: 1968: Wee Tam And The Big Huge, US gigs, Sound Techniques, Witchseason and on to Changing Horses
Interlude
Four: The Penwern era
Five: Woodstock and the U show
Six: Life at Glen Row
Seven: Individual views – Joe Boyd, Rose Simpson, Bruce Findlay
Eight: Mike and Robin go solo
Nine: The Island years – Liquid Acrobat,Earthspan, Likky, Gerard Dott and No Ruinous Feud
Ten: Mike, Scientology, Zen and Wyrd
Eleven: An anthology of pieces from beGLAD magazine, plus Neil Tennant's days as a 'dedicated fan.'
Twelve: The Malcolm Le Maistre story and Stan Schnier, Graham Forbes and Steve Blacknell
Thirteen: 'Did we step wrong somewhere?' – the final years – in which we consider the band's Seventies soundtrack work and assess their final year, final album and eventual split.
Appendix: Where are they now? Family tree, A-Z guide to ISB instruments, Robin Williamson on ISB instruments, ISB early musical influences, Wee Tam and the Bible, the copyright issue, quiz, crossword, discography/bibliography, contributors' details
Index