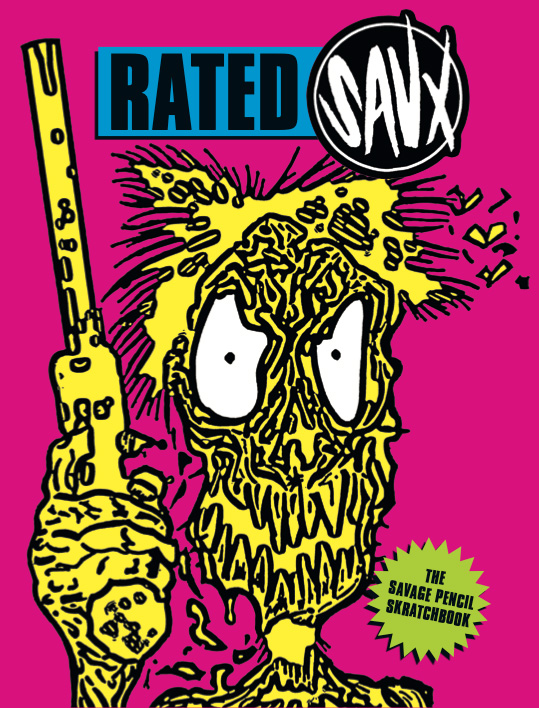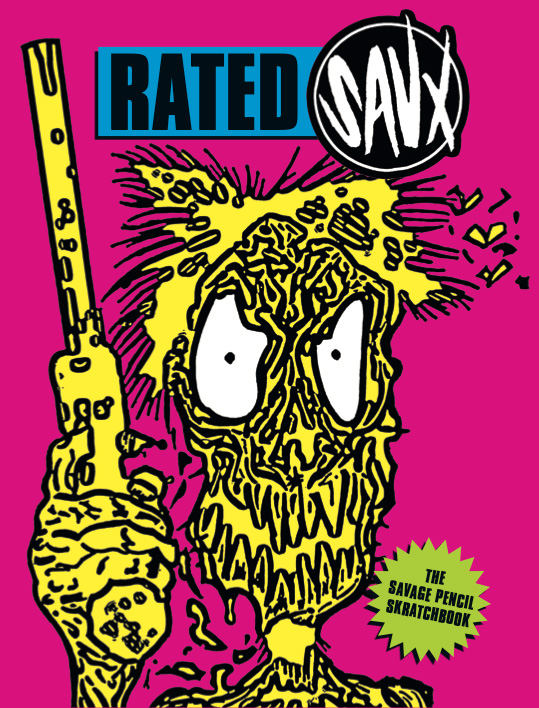 HB (200 copies) £40 /
PB £25
236pp
Includes over 200 images, 32 pages of colour and a 6-panel black metal foldout
 190mm x 260mm
ISBN: 9781907222696

Essential reading for the apocalypse…  Devotees of the weird here is your guidebook. Opening the book and discovering Savage Pencil through this outrageous collection is like dissecting the mind of a monster.
Cary Loren, Bookbeat
A mind melting assay of Sav's work, backed with contextual information that cements his work near the centre of the cultural vortex… Hilarious, disgusting and brilliantly transcendent…
I could not rate it more highly. 
Byron Coley, The Wire
From the most subterranean of underground cartoonists to full-blown daemonic visionary, here we see Savage Pencil's horrid Lovecraftian metamorphosis in all its sublime and terrifying glory; all its ugly ecstasies. Hilarious, psychedelic, beautiful, deformed – give your nervous system a bracing dip into this lysergic acid-bath of a collection from the last Beatnik artist standing. Unmissable.
Alan Moore
We are deeply fortunate that Edwin Pouncey is the worlds' #1 Sunn O))) fan and also our meta spiritual advisor of the aesthetic directions. Formally he graced us via tambura during our Peel session in 2003. We have had the pleasure to work with his visual evocations on several occasions, sometimes linearising the conceptual path of our music (Candlewolff 2004, WhiteRat 2019), and others manifesting the viscerally of alive organic energy of our music. On the sidereal our sharing of the glory of Abruptum has lead to several collaborations for radio as Crucified Mouse duo, and deep discussions with Spare, It, Dead, Szukaski, and the possibility of unleashing the albino radioactive rats unto the masses. Hail Savage Pencil, may your eternal mutations bring light to this dark and twisted human world for eternity.
Stephen O'Malley, Sunn O)))
Available in two editions: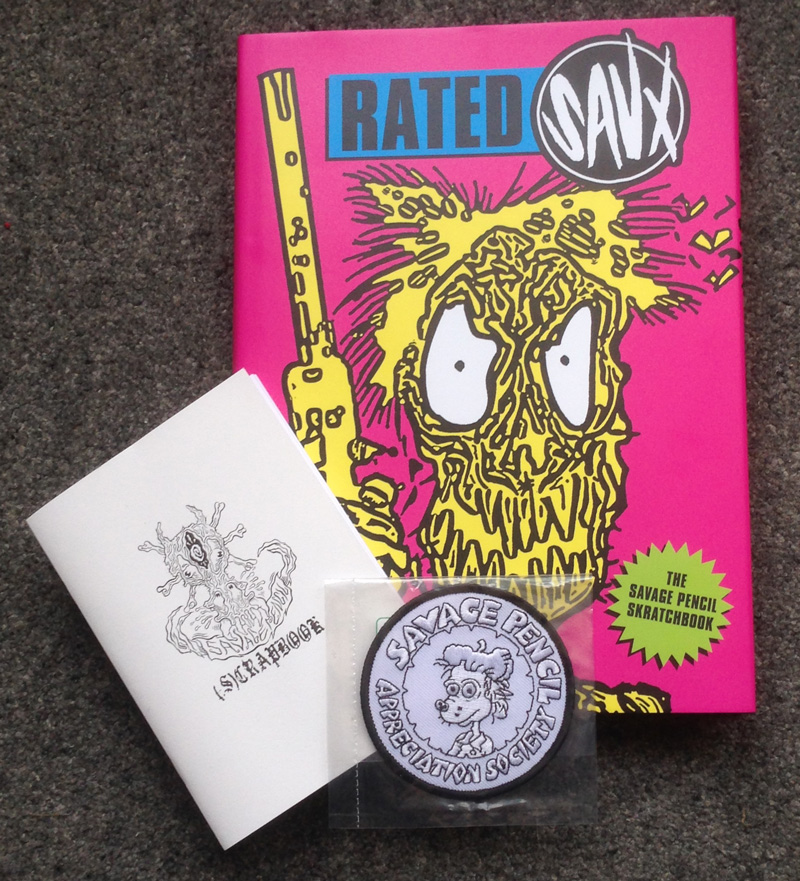 ——>
A signed clothbound hardback special edition, with debossed boards and dust jacket, limited to 200 copies. Comes with Savage Pencil Fan Club sew-on patch and a bonus book of sketches signed by the artist. £40
— An unlimited paperback edition available through Strange Attractor Press, MIT Press, and all good bookshops for the price of £25.
∞∞∞∞∞∞∞∞∞∞∞∞∞∞∞∞∞∞∞∞∞∞∞∞∞∞∞∞∞∞∞∞∞∞∞∞∞∞∞∞∞∞∞∞∞∞∞∞∞∞∞∞∞∞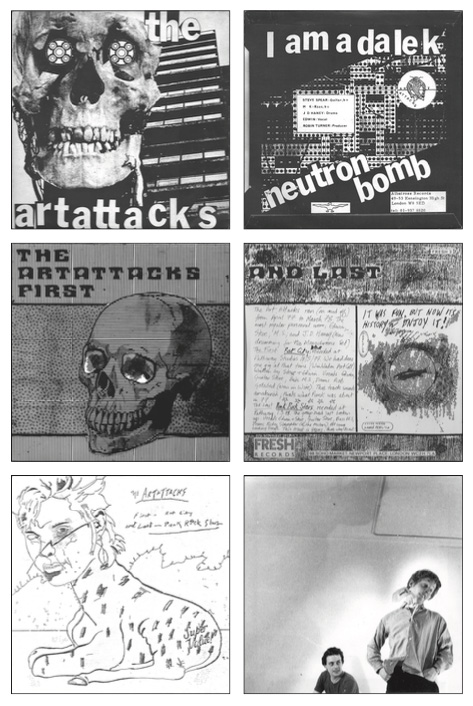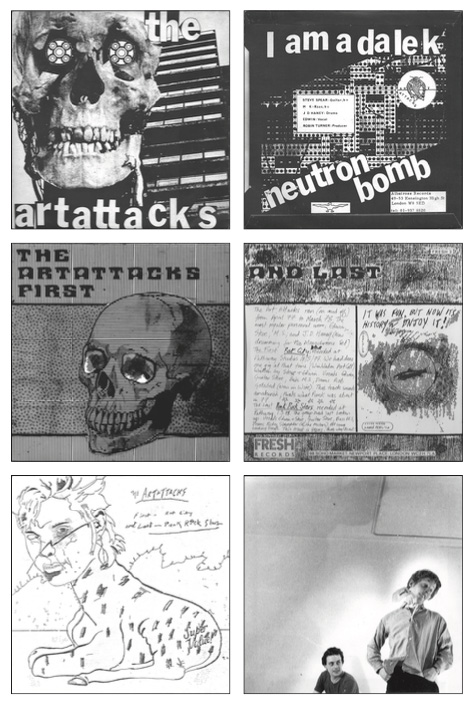 Underground cartoonist, artist, writer, musician, and amateur magician Savage Pencil has been conjuring up images and making a noise since 1977.
From his 'Rock 'N' Roll Zoo' strip for 1970s music paper Sounds to his 'Trip or Squeek' and 'Primers' work for The Wire magazine and beyond, his instantly recognizable, delirious and demented images have come to define their own form of acerbic graphic critique and satire. As well as producing comix he has also designed album covers, T-shirts, posters and other merchandise for such groups as Sonic Youth, Big Black, The Fall, Sunn O))), Coil, Current 93 and Earth – together with images for a host of obscure punk rockers and metal gurus. As a result, his drawings have become intrinsically linked with the sonic ideas that were being transmitted on such records as Sonic Youth and Lydia Lunch's Death Valley '69, Big Black's Headache EP and The Fall's Lie Dream Of A Casino Soul 45.
Gathered together from his archive of artwork, personal photographs, documents, and ephemera – including an exclusive revealing interview by author and legendary esoteric bibliographer Timothy d'Arch Smith – Rated SavX is an access-all-areas trawl through the life, art and uncontrollable imagination of Savage Pencil.