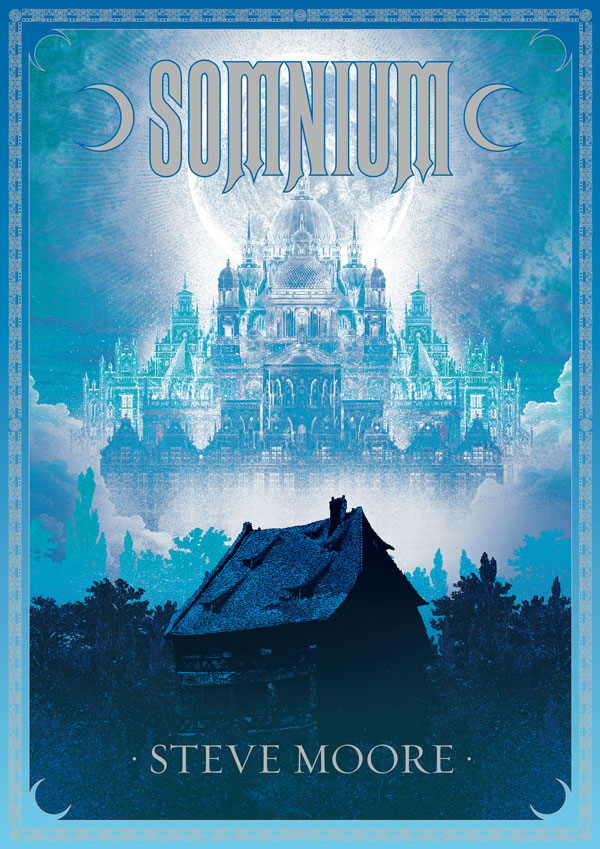 By Steve Moore
296pp, A5 PB, 15.99
ISBN: 978-1-907222-51-1
Newly Expanded edition
                       A masterpiece – Alan Moore 
A unique work by a unique genius. Moore has an understanding of the occult peculiar to a very few and it always gives me the shivers; the shivers which say 'authenticity'. Get this book while you're part of the minority who know about it – Michael Moorcock

A visionary decrypting of one of fringe-London's most potent downriver sites. Steve Moore's voyage through plural strands of time echoes the high craft of his namesake, Alan, and the honourable tradition of Michael Moorcock's Gloriana – Iain Sinclair

SOMNIUM is a brilliant fever-dream of a novel, a chambered nautilus of moon-drenched tales within a tale that spiral both inward and outward – Jacqueline Carey

A tour-de-force of playful majesty and magic, of style and of love – Aug Stone, The Quietus
ABOUT THE BOOK
Written in the early years of the twenty-first century, when the author was engaged in dream-explorations and mystical practices centered on the Greek Moon goddess Selene, Somnium is an intensely personal fictional tapestry that weaves together numerous historical and stylistic variations on the enduring myth of Selene and Endymion. Ranging through the sixteenth to twenty-first centuries, it combines medieval, Elizabethan, Gothic, and Decadent elements in a fantastic romance of rare imagination.
With its delirious and heartbroken narrative, Somnium is an extraordinary odyssey through love, loss, and lunacy, illuminated by the silvery moonlight of its exquisite language.
Alan Moore's afterword details the life of his friend and mentor Steve Moore, and includes the circumstances surrounding the writing of Somnium.
This new expanded paperback edition includes Sketches of Shooter's Hill, a topographical communiqué from the South London hinterlands that formed the liminal setting for Moore's novel. Originally self-published by the author and distributed only to a handful of friends, this curious travelogue is made available to readers here for the first time.
Iain Sinclair leads a tour of sites associated with Somnium and its author:
ABOUT THE AUTHORS
Until his death in 2014, Steve Moore wrote comic-books, novels and non-fiction, including Abslom Daak, Laser-Eraser & Pressbutton, Hercules and The Trigrams of Han. He also had a long-standing editorial connection with Fortean Studies and Fortean Times, to which he was a frequent contributor from its inception. His short story collection, Tales of Telguuth, was published by SAP in 2016.
Alan Moore is the internationally famous author of such graphic classics as Lost Girls, Promethea, From Hell and The League of Extraordinary Gentlemen and the novels Voice of the Fire and Jerusalem. Alan's biography of Steve Moore, Unearthing, is available as an audio-recording and book from Lex Records, illustrated by noted photographer Mitch Jenkins.