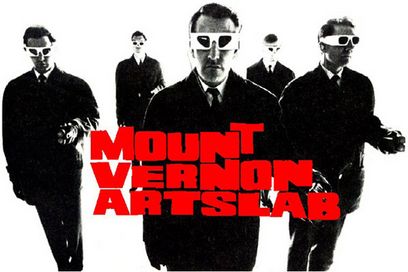 To celebrate the re-issue of Mount Vernon Arts Lab's Seance at Hobs Lane, Fortean Times have dug out this interview with him, conducted by fax, from 2001.
What are the roots of your interest in the 'power of place'? Do you think this can be a literal power, like a form of energy, or is it a psychological – or psychogeographical – effect… or both?
It's something that I've only rediscovered recently. As a much younger gentleman I sued to explore our local area, which was quite strange at that time. World War II air raid shelters, bomb craters, abandoned railway tunnels, anything off the beaten track. I think this is the sort of thing most boys do. But after playing at the nuclear command bunker a few years ago I started to be fascinated by not only derelict military structures but also obscure urban stuff and then discovering that there was a kind of network of urban trespass fanzines and web sites, and a subject called psychogeography. For me this took in everything from visiting the location of The Wicker Man's climax to the scene of the ambush of Percy Toplis, the Monocled Mutineer, to the bombing range used by 633 Squadron. It was the alternative away day aspect that appealed to me. What would you rather do? Have a drink in the Green Man or watch Eastenders?
How do you attach a title to a piece of music? Does the concept come first, or afterwards? Can you give an example or two off your new album.
It's probably a bit of both. There are definitely some places that are charged. We went to Kenmore on Loch Tay recently and the village and surrounding area have a very interesting vibe. There's a ghost village, monuments in the middle of nowhere, strange statues in the pub, (half Pan, half maiden) and some Neolithic carvings near the churchyard. At the moment we're recording a double CD based on all this stuff. It'll be called The Kenmore Working.
The two really go hand in hand. A lot of the material on this album came directly from the research I was doing. Finding out more about such diverse subjects as Victor Grayson's disappearance in the '20s, or the fact that Thomas DeQuincy lived in Glasgow for a short while, or abandoned underground stations. There was a real current of what some might call occult energy with this record. Two examples from Séance…would be The Vauxhall Labyrinth, which reminded me of Sherlock Holmes and Fu Manchu, and While London Sleeps, which was an article about the postal railway that runs between Paddington and Whitechapel. This subterranean railway carries no passengers and is for the transportation of passengers and mail only. To me something like that is so romantic and evocative. Services began on 5 December 1927 fact fans.
Full interview, this way…
CD available via Ghost Box