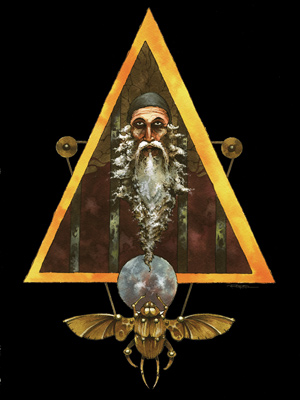 Reports BBC News:
Singer Damon Albarn has written and will appear in a new opera about a 16th Century alchemist, astrologer and spy.

'Doctor Dee', about Elizabeth I's scientific and medical adviser Dr John Dee, comes four years after Albarn staged the Chinese opera Monkey.
'Doctor Dee' will receive its premiere at the Manchester International Festival, which takes place in June and July.
Strange Attractor Journal Four contains a thirty-page text written by the opera's initial author, Alan Moore, before he left the project last year.
Between the Angels and the Apes features a detailed description of Moore's intended stage designs, reflected here in the illustration by Arik Roper,  a narrative outline for the opera and several sections of his libretto. It's a remarkably vivid and illuminating piece of work and it'll be interesting to see how Damon Albarn's version holds up to the immense potential of Alan's original.
You can read Alan Moore's original vision for Dee, The Opera in SAJ4, available now.
Thanks Julian House!