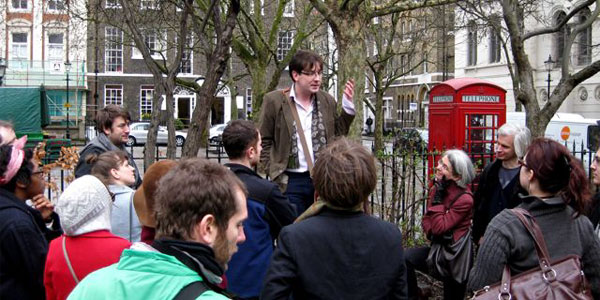 Strange Attractor are thrilled to have three London tours on the bill as part of the international Obscura Day 2012, organised by the brilliant Atlas Obscura. These are:
9am – Walk the 'lost' River Neckinger : lead by Tom Bolton
Join Tom Bolton, author of London's Lost Rivers: A Walker's Guide for a quest to find the long lost Neckinger somewhere between Waterloo, Elephant and Castle and Bermondsey Discover why no-one can find the lost river's source and why its name is a mystery.  Hear about the radicals and visionaries who lived in its neighbourhood, visit what used to be the smelliest neighbourhood in London (now much more pleasant), and get caught up in the tail end of Oliver Twist.  All in 2 hours and 3.5 miles of SE1.
11am – Bloomsbury, London's Lost Medical World : lead by Richard Barnett (above)
Where in the world could you find transplant surgery on cockerels, hop–head anaesthetists, a graveyard which holds the key to London's first great public hospital, a medical trade union in the citadel of Theosophy, and the gory story of Samuel Pepys' paperweight? On a walk through the back streets of Bloomsbury, that's where. For two hundred and fifty years this quiet district has been the beating heart of London's medical marketplace – the place where generations of doctors and surgeons have tackled the ills of the sick city. We'll make the first incision at Holborn tube, and the last stitch will be tied two hours later at Gordon Square.
2.30pm – Secret Bloomsbury : lead by Ross McFarlane
Shhhh. Don't tell anyone. This historical walking tour is your chance to uncover the Bloomsbury that nobody knows, where you'll encounter spiritualists, spies, sorcerers and scientists in the heart of literary London. From nuclear bunkers to tales of teleportation, join your guide as he exposes the secrets of this extraordinary area.
Details and booking info can be found by following each of the above links.