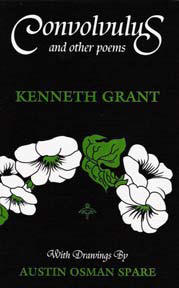 The influential occultist and author Kenneth Grant died on 15 January 2011. Grant was the last living link to both Aleister Crowley and Austin Osman Spare, and played a central role in developing the lore surrounding both men.
Deeply influenced by weird fiction authors including Sax Rohmer and HP Lovecraft, Grant had an uncanny knack for generating mystery, which he made good use of in his 'non-fiction' occult works, but was perhaps better suited to the eldritch tales that so inspired him.
Such ambiguity is what makes Grant's writings such effective magickal texts; like fellow slipstream author John Keel working in more fortean realms, it's often difficult to discern where reality ends and the imaginal begins. The usual checkpoints have been overrun by slithering, crawling, pullulating things… As others have noted, Grant was a powerful surrealist who used the medium of pulp literature to work his magic. Whatever one may feel about his writing, there can be no denying that Grant was a pivotal figure in late 20th century occultism, and his legacy is unlikely to diminish in his afterlife.
Grant's ideas about the ancient Chinese poisoning cult of Ku is the focus of an essay in Strange Attractor Journal Four by Andy Sharp and Phil Legard. A fantastic appraisal of Grant and his work by Alan Moore appeared in Joel Biroco's Kaos 14 (2002), which is available as a PDF download here.
From his publisher Starfire's web site:
Kenneth Grant died on 15th January 2011 after a period of illness. Our condolences go first and foremost to his family, whose privacy is something which we all wish to respect at this difficult time.
Kenneth Grant had an extraordinary life, and his work has a remarkable depth and breadth of magical and mystical insight. In particular, his monumental series of Typhonian Trilogies is creative, innovatory and inspiring, extending across thirty years from the publication of the opening volume The Magical Revival in 1972, to the appearance of the final volume The Ninth Arch in 2002. This is a substantial body of work, constituting a solid foundation for further development, widening and deepening in the years to come; his work will continue.