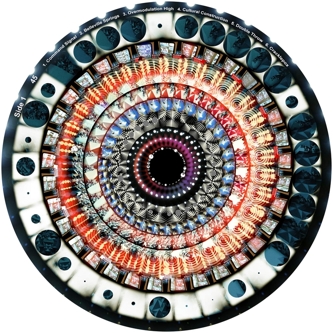 Musician and SA pal Dan Hayhurst and animator Reuben Sutherland have collaborated on this amazing hybrid of 11-track album and variable speed Zoetrope disc.
Sound and image compliment each other perfectly as the kaleidoscopic magic wheel spins out fizzing, cascading rhythms, crackling electronic blipblop, big band beats and drifting voices, all spliced together from decayed C90 cassettes, to a visual accompaniment of  pulsating, vibrating and oscillating images. Or is it the other way around?
Rotary Signal Emittor is a lo-fi, sci-fi marvel, a mesmeric wizard wheel that collapses multiple lost and near-obsolete technologies into a single  timeless, magical artifact.
Here's a glimpse of it in action:
You can buy Rotary Signal Emittor from Dekorder and see more Sculpture at their web site.
And, as an SA Xmas present, here's Dan Hayhurst in action at the Horse Hospital launch of SAJ3 on 12 December 2006 (yes, that was quite a long time ago…):
Sculpture SAJ3 launch (9MB mp3)