By Stephen Thrower
with Julian Grainger

432pp, HB
plus 32 pages of colour
268.8 x 240 mm
£40 / £50
The book is available in two editions from SAP:
• Signed and numbered Special Edition,  limited to 300 copies, in a cloth, foil blocked cover with tipped in colour plate, plus limited 7″ picture disc of Franco music and a postcard set.
• Signed Standard Edition, with black vinyl 7″ and postcard set.
Prices include UPS courier delivery.
Copies will be dispatched from 16 March 2015.
Jesús 'Jess' Franco is an iconic figure in world cinema. His sexually charged, fearlessly personal style of filmmaking has never been in vogue with mainstream critics, but for lovers of the strange and sado-erotic he is a magician, spinning his unique and disturbing dream worlds from the cheapest of budgets.
In the world of Jess Franco freedom was the key, and he pushed at the boundaries of taste and censorship over and over again, throughout an astonishingly varied career spanning sixty years. The director of more than 180 films, at his most prolific he reached a supercharged frenzy that yielded as many as twelve films per year, making him one of the most prolific filmmakers of all time.
Franco was the winner of a Lifetime Achievement prize at the 2009 Spanish Goya Film Awards, but his appeal does not depend upon mainstream respect; instead fans around the world have embraced his cinema, first on video and then more and more frequently on DVD and Blu-Ray. Where once he was castigated for slapdash haste, many fans today not only accept but even revel in the rough edges of his work. His delirious improvisations and raw, punkish spontaneity turn the basics of popular cinema, sex and violence, into a whirl of sensations, a seductive and bewitching spectacle that could only be the work of one man.
Franco's taste for the sexy and horrific, his lifelong obsession with the Marquis De Sade and his roving hand-held camera style birthed a whole new strain of erotic cinema. Disturbing, exciting and defiantly avant-garde, films such as Necronomicon, Vampyros Lesbos, Virgin Among the Living Dead and Venus in Furs are among the jewels of European horror, while a plethora of multiple versions, re-edits and echoes of earlier works turn the Franco experience into a dizzying hall of mirrors, further entrancing the viewer who dares enter Franco's domain.
Stephen Thrower has devoted five years to examining each and every Franco film. This book – the first in a two-volume set – delves into the first half of Franco's career: from his avant-garde comedy Tenemos 18 años in 1959, through the groundbreaking surgical horror story The Awful Dr. Orlof and the art-horror masterpiece Necronomicon, to his grisly psycho-killer opus Exorcism in 1974. Ably assisted by the esteemed critic and researcher Julian Grainger, Thrower shines a light into the darkest corners of the Franco filmography and uncovers previously unknown and unsuspected facts about their casts, crews and production histories.
Unparalleled in scope and ambition, Murderous Passions brings Franco's career into focus in a landmark study that aims to provide the definitive assessment of Jess Franco's labyrinthine film universe.
Stephen Thrower is the acclaimed author of Beyond Terror: the films of Lucio Fulci and the ground-breaking Nightmare USA: The Untold Story of the Exploitation Independents.
――――

――――
Four new titles arriving between mid October and mid November 2014.
We'll have more details and ordering information available here shortly.
Watch this space.
[click on each image for a better view]
――――

――――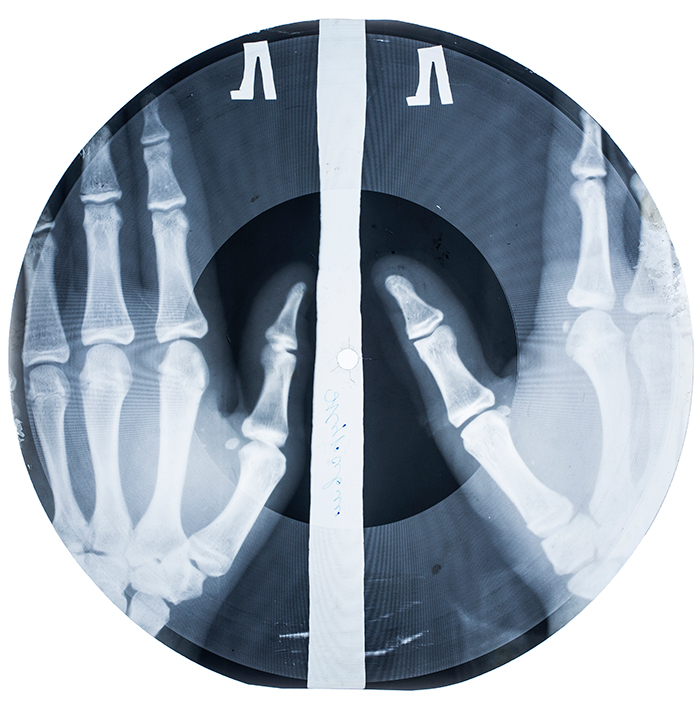 FORBIDDEN SOVIET MUSIC 'ON THE BONE'
8 October, 7pm
£6 Advance / £8 on the door (book here)
The Horse Hospital, 1 Colonnade, LONDON WC1N 1JD
Composer STEPHEN COATES tells an extraordinary story of forbidden music, cold war culture and Soviet bootleg technology.
Many older people in Russia remember seeing and hearing strange vinyl flexi-discs when they were young. The discs had partial images of skeletons on them and were called 'Bones' or 'Ribs'.
In the post war period, both the Soviet recording industry and its permissable musical repertoire were ruthlessly controlled by the State. But a vibrant, secret and risky trade grew up in bootleg records containing forbidden music. These were made on used X-Rays obtained from hospitals, cut into discs and engraved with the grooves of copied gramophone records.
Stephen will present 'X-Ray Audio', an Arts Council England sponsored project and 2015 publication by Strange Attractor Press, which will illustrate this incredible tale through photographs, essays, sound and film with testimonies from surviving Russians of the period.
Sound artist and researcher ALEKS KOLKOWSKI will be providing a live demonstration of recording onto X-Ray plates using vintage analogue record-cutting lathes and a commentary on groove-based recording techniques.
――――

――――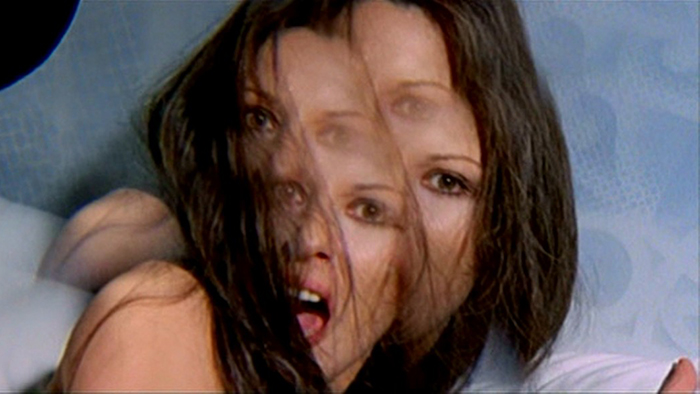 ELECTRIC SHEEP, STRANGE ATTRACTOR AND SCALARAMA PRESENT
ALL THE COLOURS OF THE DARK
Dir Sergio Martino Italy/Spain 1972 88 mins
24 SEPTEMBER
The Horse Hospital, 1 Colonnade, LONDON WC1N 1JD
7PM  £7 ON THE DOOR/£5  ADVANCE CLICK HERE
Hallucinatory satanists infest swinging London in this hard-to-find psychedelic Giallo from one of its boldest proponents, Sergio Martino (The Strange Vice of Mrs Wardh, Torso, Your Vice is a Locked Room and Only I have the Key). All the necessary ingredients are here, including giallo queen Edwige Fenech as the troubled victim of a psychopathic stalker, exotic West London locations and a psyched-out sitar heavy theme from Bruno Nicolai.
PLUS!
The Carpenters: Your favourite horror film themes played live by Filmbar 70′s Justin Harries and friend.
――――

――――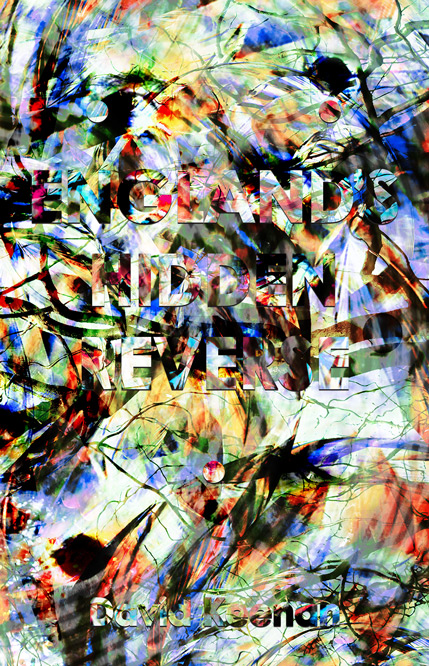 Cover design by Mark Titchner.
Coming early 2015.
――――

――――

River Peck with Tom Bolton
Sat 6 Sept , 11am – 2pm
Tom Bolton, author of London's Lost Rivers: A Walker's Guide, leads a walk along the full length of the River Peck, from Honor Oak Park to the Thames at South Dock. The lost River Peck is Peckham's river, buried under south east London. It sweeps from One Tree Hill across Peckham Rye and the industrial backlands to the Surrey Docks. On the way it takes in parts of London few ever visit, well off any tourist trail.
Meeting point: Honor Oak Park, SE23 1DY
Nearest tube: Honor Oak Park
River Peck at Totally Thames
River Tyburn with Tom Bolton

Sun 7 Sept, 11am – 1.30pm
Tom Bolton, author of London's Lost Rivers: A Walker's Guide, leads a walk tracing part of the buried River Tyburn, from Baker Street to Vauxhall Bridge. The Tyburn is one of London's lost rivers, buried to accommodate the sprawling city and West End – but still flowing beneath the streets. This river traces and shapes the history of the West End, including the institutions of monarchy, church and department store. On this walk you will uncover layers of social history and cultural curiosity, and find out about the controversies along its route.
Meeting point: Baker Street Station, Marylebone Road, London NW1 5LA
Nearest tube: Baker Street
Tyburn at Totally Thames
Tickets:
£10 – cash on the day only. Email teabolton@hotmail.com​ to book.
PLUS – THE GEEK OFF!
Sat 20 Sept, 11am – 12:30pm
HMS President, Victoria Embankment, London EC4Y 0HJ
Book tickets here
――――

――――

[photo by SF Said]
London's Lost Rivers author Tom Bolton will be leading a new series of walking tours in July and August, details below. We strongly advise advance booking as they are sure to be popular.
Meanwhile you can still buy copies of his book from us, and we'll have news of his follow up, The Vanished City, soon.
London's Lost Rivers – walks with Tom Bolton
Sat 19 July – Tyburn river walk
Sat 19 July – Fleet river walk
Sun 3 August – Neckinger river walk
Sun 3 August – Walbrook river walk
===============
Walk the lost Tyburn river
Baker Street station to Vauxhall Bridge, 3.5 miles, 2.5 hours
10.30am, Saturday 19th July
The Tyburn is one of London's lost rivers, infamous for the gallows named after it. It traces a route through Marylebone and Mayfair, cutting behind formal streets, hidden in London's busy West End and under London's most famous building. Follow the lower Tyburn with Tom Bolton, author of London's Lost Rivers, and see the underside of the London tourists know.
Meet by the Sherlock Holmes statue outside Baker Street tube station at 10am on Sunday 3rd August. Bring an umbrella if it looks like rain – we'll go ahead, whatever the weather. End point: Vauxhall Bridge. The walk costs £10. Pay on arrival (cash only). Emailteabolton@hotmail.com to book. 

===============
Walk the lost Fleet river
King's Cross to Blackfriars, 3.5 miles, 2.5 hours
2pm, Saturday 19th July
Under the London pavements are the city's lost rivers, hidden in tunnels and sewers. The most famous, the Fleet, runs just below the surface of central London. Follow the lower Fleet from St. Pancras to Blackfriars with Tom Bolton, author of London's Lost Rivers, and hear how the river ran with blood, cured the sick, shaped the city and became London myth. End point: the Thames at Blackfriars Bridge
Meet outside the Pancras Road exit from St. Pancras Station – the one opposite the German Gymnasium and King's Boulevard – at 2pm on Saturday 19th July. Bring an umbrella if it looks like rain – we'll go ahead, whatever the weather. End point: the Thames at Blackfriars Bridge. The walk costs £10 – pay on arrival (cash only). Email teabolton@hotmail.com to book.
===============
Walk the lost Neckinger river
South Bank to the Design Museum, 3.5 miles, 2.5 hours
10.30am, Sunday 3rd August
Cutting through the South Bank and Bermondsey, this walk along the buried route of the River Neckinger reveals South London's visionaries, dissidents, madmen and women and a selection of well-known household brands.
Meet by the Thames at Bernie Spain Gardens, the open space between Coin Street and the Oxo Tower Wharf, at 10.30am on Sunday 3rd August. Bring an umbrella if it looks like rain – we'll go ahead, whatever the weather. End point: St. Saviour's Dock, near the Design Museum. The walk costs £10 – pay on arrival (cash only). Email teabolton@hotmail.com to book.
===============
Walk the lost Walbrook river
Shoreditch High Street to Cannon Street, 1.75 miles, 2 hours
2pm, Sunday 3rd August
The Walbrook is buried deep under the City of London, providing not only the most direct route into the vaults of the Bank of England, but guarding London's Roman heart. Follow the route of the Walbrook with Tom Bolton, author of London's Lost Rivers, and uncover the ancient secrets lurking under alleys and back streets.
Meet outside the exit from Shoreditch High Street Overground station at 2pm on Sunday 3rd August. Bring an umbrella if it looks like rain – we'll go ahead, whatever the weather. End point: the Thames beside Cannon Street Station. The walk costs £10 – pay on arrival (cash only). Email teabolton@hotmail.com to book.
――――

――――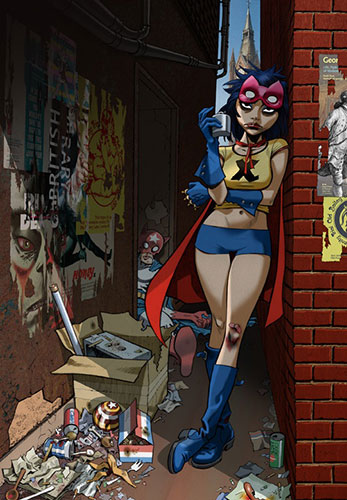 The excellent new Comics Unmasked exhibition at the British Library contains work by two SAP artists, Savage Pencil, author of Trip or Squeek's Big Amplifier, and Alexander Tucker, artist of the Andromeon postcard set. The Influencing Machine author Mike Jay also has some early writing on display.
There are numerous special events and guests scheduled for the exhibition, and as part of these, on Friday 16 May, Mark Pilkington will also be leading tours of the exhibition's collection of magical texts and artworks, including material from Dr John Dee, Aleister Crowley and Freida Harris.  More details to follow.
――――

――――
[photo by Etienne Gilfillan]
'I was born at the full moon atop a crescent-shaped hill, the main mineral found (t)here being selenite, and I have a slightly rough-edged crescent birthmark on my left forearm … so I was obviously destined to be either a werewolf or a lunatic.'  Steve Moore, 2011
We're deeply sad to announce that Steve Moore, author of Somnium and a  regular contributor to Strange Attractor Journal, passed away over the weekend, under a beautiful Spring full Moon.
Steve was a warm, wise and gentle man, with a surreal sense of humour and an astoundingly deep knowledge that covered history, the I Ching, forteana, magic, oriental mysticism, martial arts cinema, science fiction, underground comics and worlds more.
Steve was amongst the earliest members of the Gang of Fort, who launched Fortean Times magazine in the early 1970s, and later edited its scholarly journal Fortean Studies. He was also the author of a great many influential comics and short stories for publications including 2000AD, Warrior, Dr Who magazine and, most recently, the Hercules series for Radical Publishing. At the time of his death he was working on a number of new projects, including his ongoing, privately published Tales of Telguuth and The Bumper Book of Magic, with his lifelong friend Alan Moore.
In 2011 Steve gave a rare interview to Aug Stone of The Quietus, while Alan Moore's book and album project, Unearthing, explored Steve's life, their friendship and their magical relationship in great detail.
Steve and Strange Attractor had recently been discussing a paperback edition of Somnium, as well as a collected Tales of Telguuth, and we hope to be able to make these available, in Steve's honour, in the near future.
'Pay attention to his spectacles, refracted light turning the puzzled eyes beyond the lenses into abstract clots of pearl and white. Just change the point of view a little, move an inch or so to one side or the other and the optical illusion fails… There's nobody there, was never anybody there except a fluctuation in the visual purple, a perceptual misunderstanding, trick of moonlight.'
Alan Moore, Unearthing
Steve Moore 1949 – 2014
――――

――――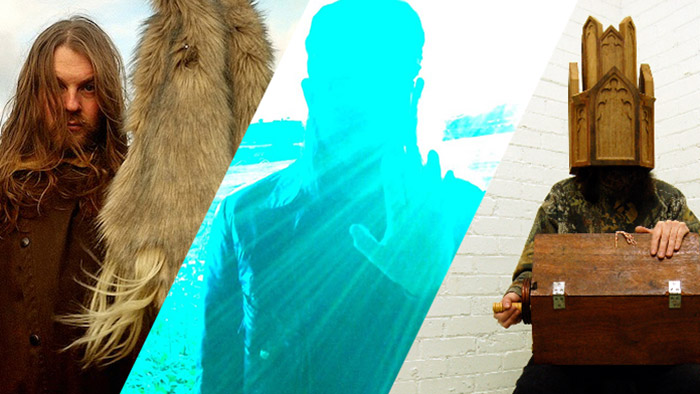 A NIGHT OF ASTRAL EARTH PLANE MUSIC SURROUNDED BY THE PSYCHIC PAINTINGS OF ETHEL LE ROSSIGNOL
FEATURING THE STARGAZER'S ASSISTANT, ALEXANDER TUCKER AND JOSEPH LEWIS.
THE HORSE HOSPITAL, 12 March 2014
DOORS 7:30PM TICKETS £8 (click here)
"In true hearing, the voices of the archangelic realm carry unimaginable ecstasies which overcome the spirit, revivifying springs of harmony within and without." From A Goodly Company (1933), received from the spiritual spheres by Ethel Le Rossignol.
The Stargazer's Assistant – David J Smith, David Knight and Michael J York. Eyes closed, ears wide open, we are given freedom to dream the void.
"Music of rare emotional power, of penetrating beauty, with the capacity to extend and enhance its listeners' understanding; it is, in other words, the real deal." Oliver Arditi
Alexander Tucker – "[A] mixture of the hauntingly familiar and the unaccountably strange… conjures [a] thrilling sense of disorientation and wonderment." The Quietus
Joseph Lewis – "Joseph Lewis' hurdy gurdies chart an alternative folklore of the British Isles. Produced through a rigorous study of ancient craft traditions and folk symbols, these instruments are nevertheless a celebration of an anarcho-democratic and carnivalesque tradition." Pil and Galia Kollectiv
Book tickets here
――――

――――