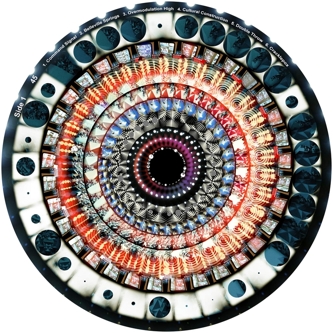 Musician and SA pal Dan Hayhurst and animator Reuben Sutherland have collaborated on this amazing hybrid of 11-track album and variable speed Zoetrope disc.
Sound and image compliment each other perfectly as the kaleidoscopic magic wheel spins out fizzing, cascading rhythms, crackling electronic blipblop, big band beats and drifting voices, all spliced together from decayed C90 cassettes, to a visual accompaniment of  pulsating, vibrating and oscillating images. Or is it the other way around?
Rotary Signal Emittor is a lo-fi, sci-fi marvel, a mesmeric wizard wheel that collapses multiple lost and near-obsolete technologies into a single  timeless, magical artifact.
Here's a glimpse of it in action:
You can buy Rotary Signal Emittor from Dekorder and see more Sculpture at their web site.
And, as an SA Xmas present, here's Dan Hayhurst in action at the Horse Hospital launch of SAJ3 on 12 December 2006 (yes, that was quite a long time ago…):
Sculpture SAJ3 launch (9MB mp3)
――――

――――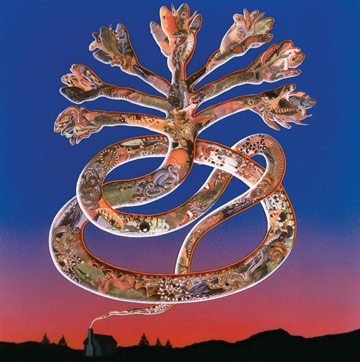 Drifting at first, quietly, almost imperceptibly into earshot, the new album by Cyclobe, Wounded Galaxies Tap at the Window, brings with it worlds.
Preliminary glimmers of astral light part to reveal the album's centrepiece, The Woods Are Alive with the Sound of His Coming, a 17-minute processionary march of organic and inorganic sounds that metamorphose and evolve into thrilling new lifeforms, infesting your listening environment  with an ecosystem that is equal parts Tex Avery and Jan Svankmajer.
From the woods we return to a fiery, hurdy-gurdy whirl of incorporeal space before emerging into a concert of chamber music from a distant star. A fragile voice sings in an unknown language over vapourous percussion, chittering synths and upwellings of abstract piano – sounds that are almost overwhelmingly alien and ethereal, strange and beautiful. A final cosmic churn spins us out into the silent void, ready to make the journey all over again.
Wounded Galaxies Tap at the Window is a baroque, startling and endlessly surprising record that brims over with imagination and humour, restraint and grandeur. Ancient and modern, teeming with life, riven by decay, it's as fulfilling an album as I've heard in some time, and the shape of remarkable things to come.
Cyclobe are Ossian Brown and Stephen Thrower, joined by Michael J. York, Cliff Stapleton, John Contreras and Thighpaulsandra. The album is currently available in a 180gram vinyl pressing of 1000 copies in black and white vinyl with beautiful cover art by visionary artist Fred Tomaselli. Digital downloads will be available soon.
You can buy the album direct from Cyclobe, here
――――

――――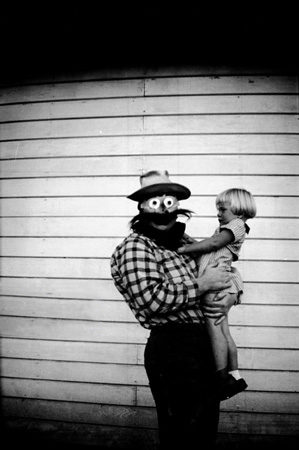 Haunted Air is a beautiful new book of photographs from SA pal Ossian Brown, compiled from his own collection of American Hallowe'en snaps taken (not by Mr Brown) between 1875 and 1955.
By this time the festival, imported into the United States during previous decades by predominantly Irish Catholic immigrants, had insinuated itself firmly into the ritual year and was celebrated, as these pictures show, by both rich and poor in towns, cities and rural communities all over the country.
The images in Haunted Air reveal some of the earliest expressions of fear and play captured on film; some are as sharp as if they were taken yesterday; most, however, are atmospherically warped and misted by time. Here are clowns, skeletons, goblins, scarecrows, pumpkins, ghosts, devils, angels, myriad strange hybrid beasts and even what looks like an anachronistic extraterrestrial.
Some of these images will make you smile; others, either through the costumes themselves, their settings or due to an accidental, intangible something in the composition or the image itself, provoke a delicious, involuntary chill, evoking an uncanniness sadly missing from today's mechanically-reproduced festivities.
Perhaps the key difference to emerge from the Hallowe'en depicted here and Hallowe'en now is that, while there are similarities in the themes and masks on display, most of these costumes were made by the children who wore them, or by their families. Similarly the figures they depict were, with a few exceptions – is that a demonic Donald Duck lurking in there? – more likely to be drawn from the imagination, if admittedly a shared folk imagination, than from today's library of copyrighted film, television, or comic strip ghouls.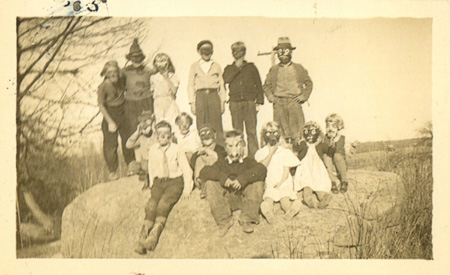 Haunted Air's ghost boys and girls are also revenants of a time when the horrors parading through your neighbourhood still maintained a dim spectral hold on reality, living on in the memories and superstitions of their parents and grandparents. Perhaps it's not overly romantic to suggest that those who lurched, pranced and spooked at Hallowe'en were, as they mocked, also paying their respects to the denizens of an unseen, demon-haunted world that is all but lost to us.
Sumptuously produced, with a foreword by David Lynch and text by Geoff Cox, Haunted Air is available now from Jonathan Cape.
John Coulthart also points out that there was a piece on Ossian and Haunted Air at, of all places, the Financial Times web site.
――――

――――